CREATE Your Future... in Water Security
Canada is challenged with pressing issues of water security. River basins are experiencing periodic water shortages, expensive floods and droughts, a rapidly changing climate, and increasing impacts to water quality and quantity associated with population growth and natural resources development. To ensure continued aquatic ecosystem health, economic growth, and responsible resource development in Canada's river basins, integrative and collaborative research on the science and governance of water security is needed.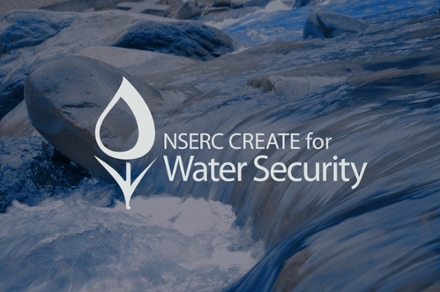 The NSERC CREATE for Water Security is a comprehensive and career-oriented research and training program for graduate students and postdoctoral fellows. We offer an experience that expands interactions across disciplines without diluting disciplinary credentials, blurs the line between research and practice, and builds necessary personal and professional skills to best ready you for a career in the water security sector of your choosing.
News and Events
Upcoming Webinars:
January 7, 2021: Fireside Chat about being a PhD in a conservation organization with guest Dr. Lauren Bortolotti, Ducks Unlimited Canada. To register, please visit: https://forms.gle/p2uNPcStRuU3HNU58
Funding Provided By