Ergonomic Evaluation of Passive Exoskeletons in Agricultural Tasks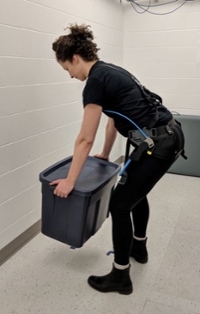 Back pain is highly prevalent among Saskatchewan farmers, and research shows this adversely affects their quality of life and workability. Prolonged back bending and manual material handling contributes to back pain and is typical of many tasks in agriculture. 
It may not be possible to eliminate or elevate agricultural work tasks that occur at ground, but supportive equipment might be a practical solution. An exoskeleton is a supportive structure that could be a solution to minimize the stress of back bending. Because it can reduce exposure to risk factors, exoskeleton technology may be an appropriate prevention strategy for back pain among farmers.
This study will investigate the biomechanics and usability of an exoskeleton for use by farmers during work at ground height. The study will recruit farmers on six Saskatchewan farms. We will use sensors to measure the back and lower limb postures and muscle activities of twelve farmworkers undertaking ground-level tasks and manual lifting tasks, both with and without a prototype exoskeleton. We will also conduct a survey on their experience with the exoskeleton.
The results of this study will enable us to better understand how an exoskeleton might assist farmers working at ground level. This study will support intervention design to improve the health, quality of life, and productivity of Saskatchewan farmers and workers with similar ergonomic risks.
This study is being funded by the Saskatchewan Health Research Foundation and the Alberta OSH Futures Program, and conducted by Ornwipa Thamsuwan, Catherine Trask, and Stephan Milosavljevic.
What is an exoskeleton?
An exoskeleton is a wearable structure that can help support the body during physically demanding tasks.  The goal of exoskeletons is to reduce load on the body, reduce risk of injury, and maintain or improve work performance.  Some exoskeletons have batteries or power sources, but many do not; this study is investigating a 'passive' exoskeleton without any power source.
Dr Thamsuwan and Dr Trask both contributed to an Exoskeleton Advisory Committee set up to summarize current knowledge about exoskeletons and identify research gaps. This committee was administered by the Washington State Department of Labour and Industries.  Their website has a position statement on exoskeleton use for work tasks, information on the types of exoskeletons available, and some steps to consider when implementing exoskeletons in a workplace.
The US Centeres of Disease Control's National Institute of Occupational Safety and Health has also pubished a summary of current evidence related to exoskeletons in the workplace. 
Information for Study Participants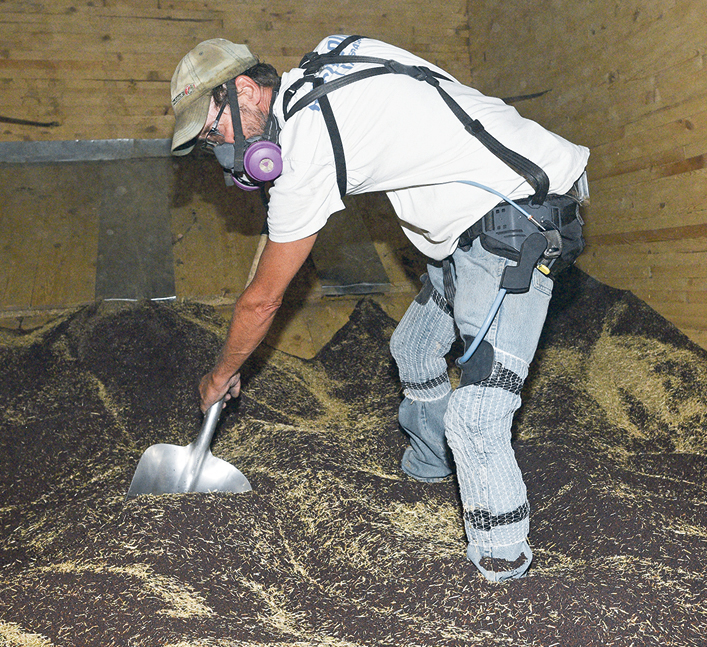 Thank you all the individuals who participated in the study. We have now completed the field data collection. For the study results, please stay tuned for upcoming reports and presentations.
Reports and Presentations
Ornwipa Thamsuwan, Stephan Milosavljevic and Catherine Trask. A field study evaluating the use of a passive exoskeleton as potential intervention for mitigating low back pain risk factors in farmers. Canadian Agricultural Safety Association Annual Conference, Quebec City, Canada, October 2019 (oral presentation)
Abisola Omoniyi, Ornwipa Thamsuwan, Stephan Milosavljevic and Catherine Trask. Farmers' perceptions of exoskeleton devices and their potential to prevent back injuries in Saskatchewan farms. Annual Symposium and Workshop of Saskatchewan Epidemiology Association, Regina, Canada, October 2019 (poster presentation)
Ornwipa Thamsuwan, Stephan Milosavljevic and Catherine Trask. A pilot study evaluating the use of a passive exoskeleton as potential intervention for mitigating low back pain risk factors in farmers. The International Conference on the Prevention of Work-Related Musculoskeletal Disorders (PREMUS), Bologna, Italy, September 2019 (oral presentation)  
Ornwipa Thamsuwan, Stephan Milosavljevic and Catherine Trask. Heuristic Review of farm tasks compatibility to exoskeletons. Annual Symposium and Workshop of Saskatchewan Epidemiology Association, Saskatoon, Canada, October 2018 (poster presentation)