Women's Shoulder Study
Towards improved clinical evaluation of the shoulder: defining upper limb motion of breast cancer survivors during functional evaluation tasks
Study Description
Breast cancer survivors are known to experience many restrictions at the upper limb. Problems such as reduced range of motion, lymphoedema, reduced strength, and pain are common following surgery and can last for years after curative treatment. The physical changes and presence of arm problems suggest that there are also significant biomechanical changes at the shoulder that can affect abilities and increase risk of future injury. In particular, due to the physical alterations following surgery, it has been hypothesized that breast cancer survivors are at increased risk of developing rotator cuff disease. This goal of this study is to define kinematics, or motion, of breast cancer survivors during a range of clinically and functionally relevant shoulder-centre tasks. These measured kinematics of breast cancer survivors will be compared to kinematics of non-cancer controls and a rotator cuff injury group to determine the presence of alterations and to help to identify if the alterations are similar to those displayed with rotator cuff injury. This information will enhance the understanding of shoulder movement following breast cancer surgery, particularly for functional, work-related tasks, and will allow for more specific recommendations for clinicians regarding treatment, rehabilitation, and return to work.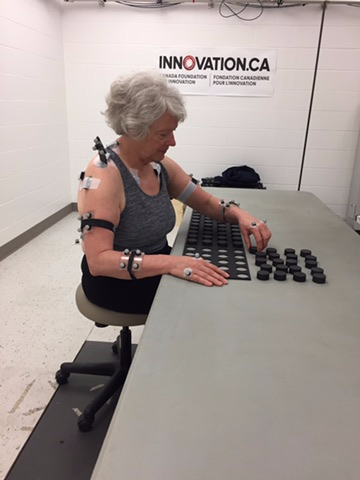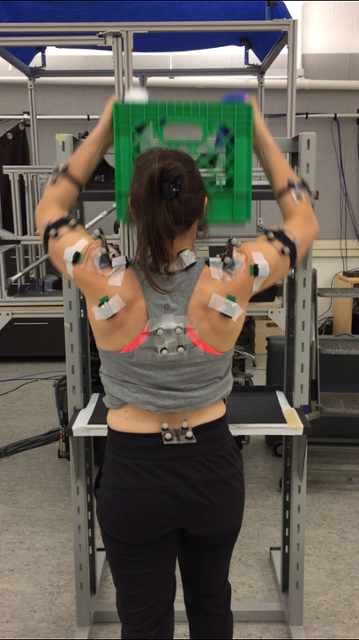 How to Get Involved
The research team is currently looking to recruit women between the ages of 35 and 65 who have a currently symptomatic rotator cuff injury. Participation involves one data collection of approximately 2.5 hours at the University of Saskatchewan Ergonomics Lab, where all participants will perform upper limb focused tasks while outfitted with motion capture equipment to track movements and muscle activity.
If you are interested in participating, please contact Angelica Lang at angelica.lang@usask.ca or at 306-371-9676.