Current Research Projects
Remember Lives Not Numbers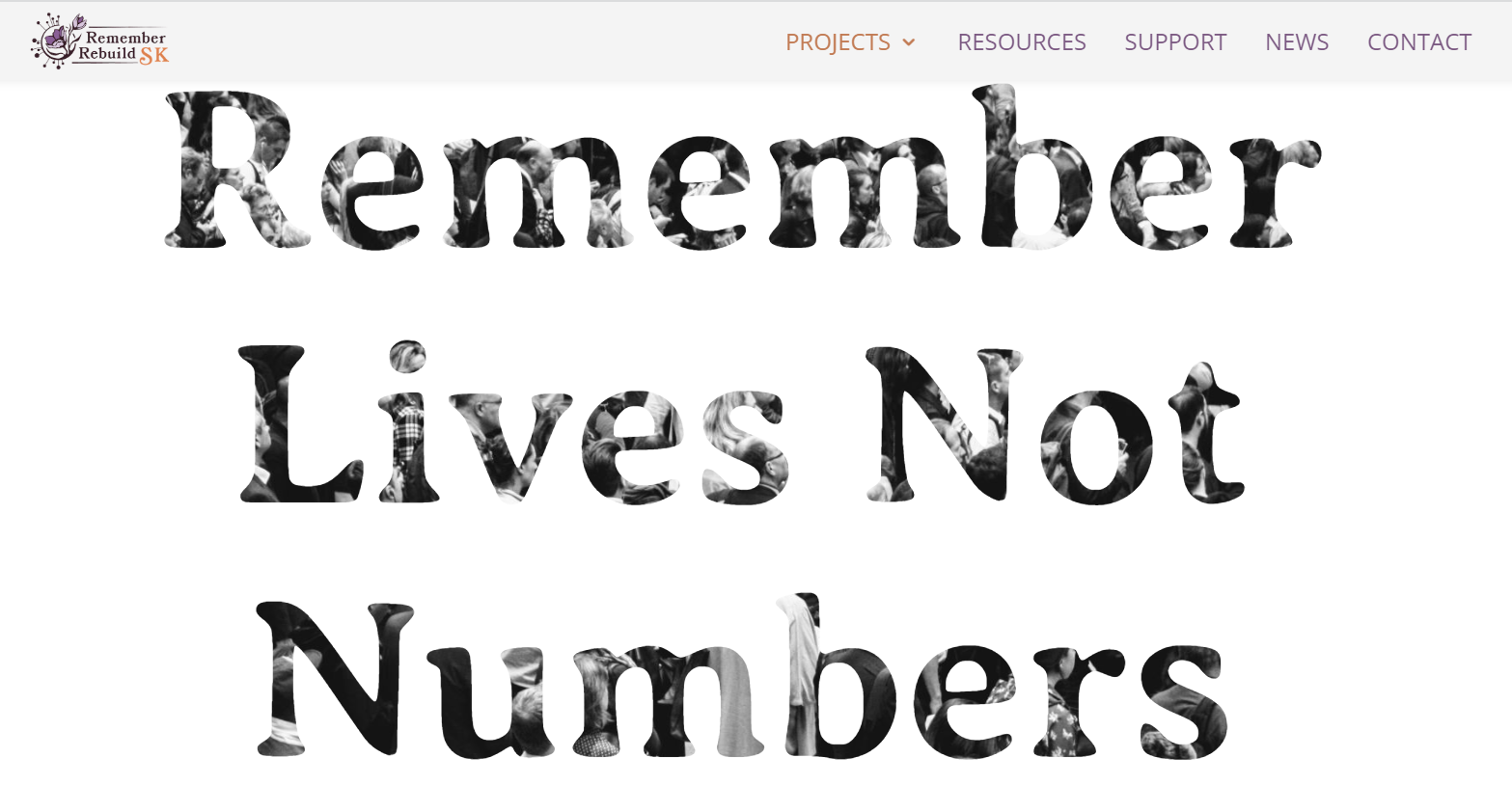 The project team: Dr. Jim Clifford (PhD), Dr. Patrick Chassé (PhD), Dr. Erika Dyck (PhD), graduate student Bethany Knowles, and undergraduate research assistant Domenica Medina Sanchez. 
This digital memorial is an effort to remember the individuals taken too soon by COVID-19.
Since March 2020, there have been over 1800 deaths caused by COVID-19 in Saskatchewan. As the scale of the pandemic increased, people across Saskatchewan became disconnected from the stories of those died. Individual tragedies were converted into statistics, tables, and graphs used by the media, politicians, and public health officials to talk about the COVID-19 problem.
The project began with researchers gathering data from publicly available information—most often obituaries—where the cause of death was linked to COVID-19. For each person, they included a brief highlight about their life. The database provides the link to the original obituary, or in rare cases a news article, where you can find out more about the people across Saskatchewan who we have lost during the pandemic.
If you have a family member who died from COVID-19 (directly or indirectly) and would like to share their story, there is a form to submit details on the project website.
You can read more about the project here.
COVID-19 Community Archive

PI: Erika Dyck
Team: Jim Clifford (History); Nazeem Muhajarine (Community Health & Epidemiology); Simonne Horwitz (History), Scott Napper (Biochemistry and VIDO), Alex Wong (Medicine, Infectious Disease), Craig Harkema (Digital Research Centre), Murray Mandryk (journalist), Charles Smith (Political Studies), Suzanne Barnes (Anthropology), Roslyn Compton (Nursing), Helen Vandenburg (Nursing).
While global pandemics are thankfully rare, they have historically been important forces that shape generations and often change our cultural and political priorities. COVID-19 is no exception to this historical trend. While its projected death toll is much smaller than the 1918 influenza pandemic, the totalizing effects of the COVID-19 pandemic leave permanent impressions on those living through this event, marking this moment in collective memory.
The COVID-19 Community Archive is a digital archive of life in Saskatchewan during the COVID-19 pandemic. It uses a multi-pronged collections approach: 1) materials related to everyday life, including: personal accounts, testimonies, diaries, social media; 2) materials related to the local public discourse, including: news releases, policy changes, school closures, essential services declarations; 3) science during COVID-19, including information about: laboratory shut downs, vaccine research, vaccine roll-outs, and research delays. We invite voluntary submissions and will be augmenting these with targeted outreach when it is safe to do so.
In June 2021 we received seed funds from USask to expand this project, and to secure collaborators from the Saskatchewan Population Health Research and Evaluation Unit (SPHERU); College of Nursing, Vaccine and Infectious Disease Organization (VIDO), along with a number of specialists in museum and archives, digital research, long-term care facilities, health care labour organizations, and local journalists.
Read more here: "USASK project creating COVID-19 archive to share, learn from critical experience"
Psychoactivity for Sale: The Global Advertising of Psychoactive Substances, 1886-2001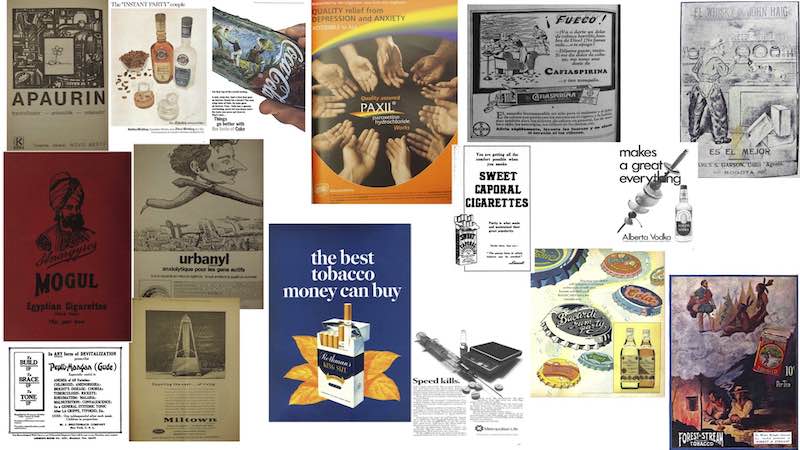 Project Leadership: Mathew Savelli, McMaster University and Erika Dyck, University of Sasktachewan


Funded by SSHRC Insight Grant 

Pills, powders, liquids, and leaves – ranging from alcohol, caffeine, and tobacco to opioids, cannabis, and Valium – have been entrenched as essential components of people's everyday routines for centuries.  And so, in many ways, this is a study of human history and our unquenched curiosity to try, to know, to heal, to fear, and to sell psychoactive substances. The concurrent rise of the psy-ences, and the commodification of experience in pill form has hastened this connection between globalization and the history of pharmacy. 

In 2018, Mat Savelli and I began a large-scale project on the global history of psychoactive drug advertising entitled Psychoactivity for Sale.  Focusing on ads for caffeine products, alcohol, tobacco, and pharmaceuticals, we have collected over 5000 ads from five broad twentieth century jurisdictions (Canada, West Africa, Yugoslavia, Colombia, and India).  Our research is designed to cut across cultural, ideological, and geographic contexts. We examine advertisements to analyse how the desire for particular states of consciousness, degrees of wellness, and reductions in distress have been inculcated and sold around the globe.  So far, we are interested in knowing how producers of psychoactive products crafted advertisements in a manner that promoted self-regulation and independence. But taken together, these advertisements have also shown us that consuming psychoactive products itself was framed as a modern activity. In fact, a way to enact modernity - underpinned ad campaigns in contexts as diverse as interwar Yugoslavia, post-war Canada, and post-colonial Senegal. In making this case, we seek to contribute further to the literature which suggests that the history of psychoactivity must be understood simultaneously as a history of global capitalism.

This project has benefited from the work of many talented graduate students who helped collect, digitize, and create meta-data for thousands of ads. We are grateful to our team: Aysha Akhtar (McMaster), Derek Cameron (USask), Emma Chilton (McMaster), Juan Martin Giraldo (McGill), Brett Hildebrandt (USask), Letitia Johnson (USask), Archisman Mitra (Thompson Rivers University), Maja Nikolic (McMaster), Cristina McRorie (USask), Richard Oware (USask), Domenica Medina Sanchez (USask), Angela Tolkein (USask), and Dimitry Zakharov (USask).