Gravelbourg Ultrasonography Research Program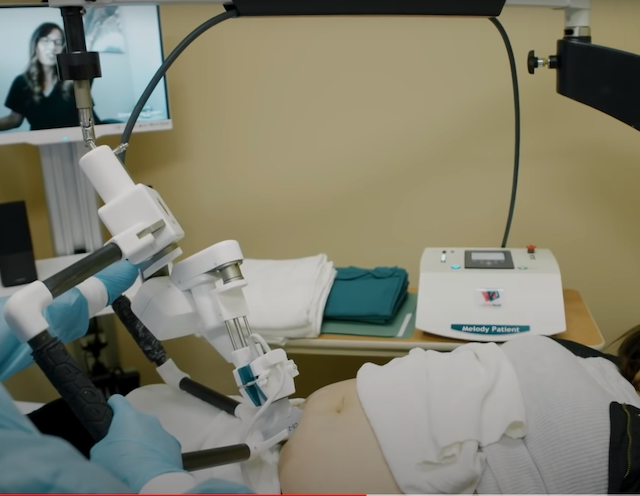 The Melody Telerobotic Ultrasound Research project provides access to ultrasonography services at St. Joseph's hospital in Gravelbourg, SK. Traditionally, patients have been required to travel extended distances to Moose Jaw or Regina to receive ultrasound services. With the Melody Telerobtoic ultrasound system, patients can access ultrasound services in their home town or community.
Melody utilizes secure videoconferencing, ultrasound remote control software, and telerobotic technology, allowing ultrasound technicians to manipulate and control an ultrasound machine from any geographical area. Patients are referred and registered for robotic exams through conventional scheduling and workflow methods, but receive their exam via a robotic system at the bedside, as opposed to an ultrasound technician. Ultrasound images are sent to the provincial patient archiving system and interpreted by next day, with urgent findings communicated same day. Radiologists have access to remotely view the ultrasound images in real time, as well as communicate with the ultrasound technician via text or voice, allowing for a collaborative and interdisciplinary service model.