Project Description
We use the term Gender-Based Violence (GBV) to encompass all experiences of violence towards a person based on their perceived or actual gender and/or sexuality. This definition includes experiences of social exclusion, bullying, physical violence, sexual violence, intentionally mis-gendering or dead naming, homophobia, transphobia, parental rejection of 2SLGBTQ+ identity, discriminatory practices, and other forms of violence that may affect the well-being as a 2SLGBTQ+ person. In using this terminology, we recognize misogyny and transmisogyny as root causes of GBV.
Research on GBV in 2SLGBTQ+ populations is limited and has been overlooked in the context of the COVID-19 pandemic. This research project will help service providers, policy makers, and researchers to better understand how COVID-19 and the associated restrictions are impacting queer individuals. We hope this information will aid service providers to better address unmet needs around this violence.
The Sex, Gender, and Reproductive Psychology Lab is hosting a webinar and producing a short summary of the findings upon project completion. Stay up to date by joining our email list to receive notifications about our webinar, summary report, and other research communications related to this project. A recording of the webinar and the summary will be posted here once the project is completed.
Who Can Participate?
You can participate if you:
Identify as a 2SLGBTQ+ individual
Live anywhere in Canada
Have experienced GBV at some point in your life.
What Does Participation Look Like?
When you click the link (below) you will be taken to our online questionnaire. First you will review the purpose of the study in detail along with other information about the project. Afterwards at the end of the consent page you will be asked to consent to participate in the survey by choosing "Yes" on the first page.
 If you indicate your consent to participate below you will be taken directly to the online questionnaire. This anonymous questionnaire should take you about 15 minutes to complete. The questionnaire will ask you about your experiences with specific forms of GBV during the COVID-19 pandemic including your association with the perpetrator and the ways in which you coped with experiencing GBV. We will also be asking some general demographic questions so that we can better understand who is experiencing GBV in Canada. But rest assured that none of this information will allow anyone to identify you. Because these questions focus on very personal experiences, we suggest that you complete the questionnaire at a time when you can be alone and uninterrupted by others.
To Participate:  
Click this link https://www.surveymonkey.ca/r/M6Z8WMK and you will be taken to the online questionnaire.
Why Should I Participate?
Every person's story matters, we want to hear your voice. Our questionnaire includes both mutliple choice questions for ease, and open-ended questions to allow you the space to tell your story in moe detail.
The more people who participate, the more we will increase our understanding of GBV trends in 2SLGBTQ+ Canadians.
There is little data on 2SLGBTQ+ Canadian's experiences of GBV.
The survey is short! We estimate it should take about 15 minutes, although you may take as much time as you like to provide detail in your open-ended answers.
The findings will be shared with community organizations that support 2SLGBTQ+ folx to improve access to care related to GBV experiences.
Your participation has an impact and helps improve support for queer folx.
Get Updates
If you would like to receive updates on the webinar and/or the results summary, please follow this link: https://zc.vg/L5YsE, and enter your email to be added to our mailing list.
A recording of the webinar and the results summary will also be posted here when the project is completed.
 If you have any questions about this survey, please email the researchers at gbvresearch@usask.ca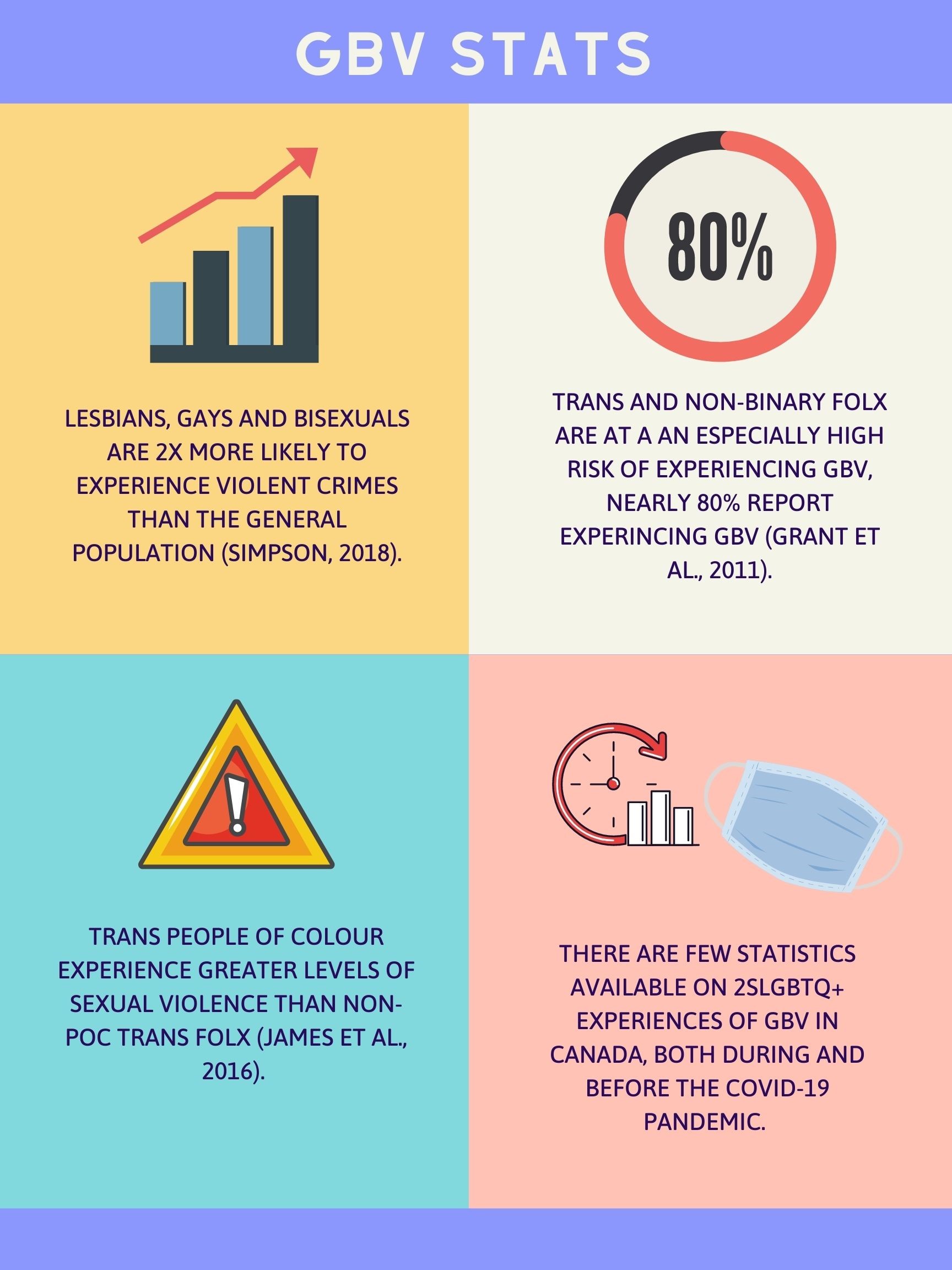 Infographic sources:
Grant, J. M., Mottet, L., Tanis, J. E., Harrison, J., Herman, J., & Keisling, M. (2011). Injustice at every turn: A report of the national transgender discrimination survey. National Center for Transgender Equality.
James, S. E., Herman, J. L., Rankin, S., Keisling, M., Mottet, L., & Anafi, M. (2016). The Report of the 2015 US Transgender Survey. Washington, DC: National Center for Transgender Equality.
Simpson, L. (2018). Violent victimization of lesbians, gays and bisexuals in Canada, 2014. Statistics Canada. Retrieved from file:///Users/ckvandyke/Downloads/54923-eng.pdf