Inks & Modifiers
Water Soluble Screen Printing Ink
Speedball Screen-Printing Inks are non-toxic, nonflammable water soluble inks. They are completely safe for use in print studios, at home, at school, or in an industrial setting. They dry to a smooth, matte finish, and remain water soluble. These inks perform wonderfully on printmaking archival paper, cardboard stocks, etc. to produce brilliant, vivid colours. All water-soluble printing inks can be mixed with a transparent extender base to achieve transparency, and are easy to clean up with a little soap and water.
The evaporation of the water is necessary to set or cure the ink. Since water-based inks contain water as an evaporative solvent, care must be taken to prevent the ink from drying in the screen. If water-based ink is left in open mesh for even a short period of time, it can clog the mesh and ruin the screen. Practiced water-based ink printers must always be conscious of how long a screen sits between prints to prevent the ink from "drying in". While modern water-based inks are less prone to this phenomenon, it is still a concern. In addition, when a water-based print job will take more than one day, the ink must be removed and the screen cleaned with to prevent drying.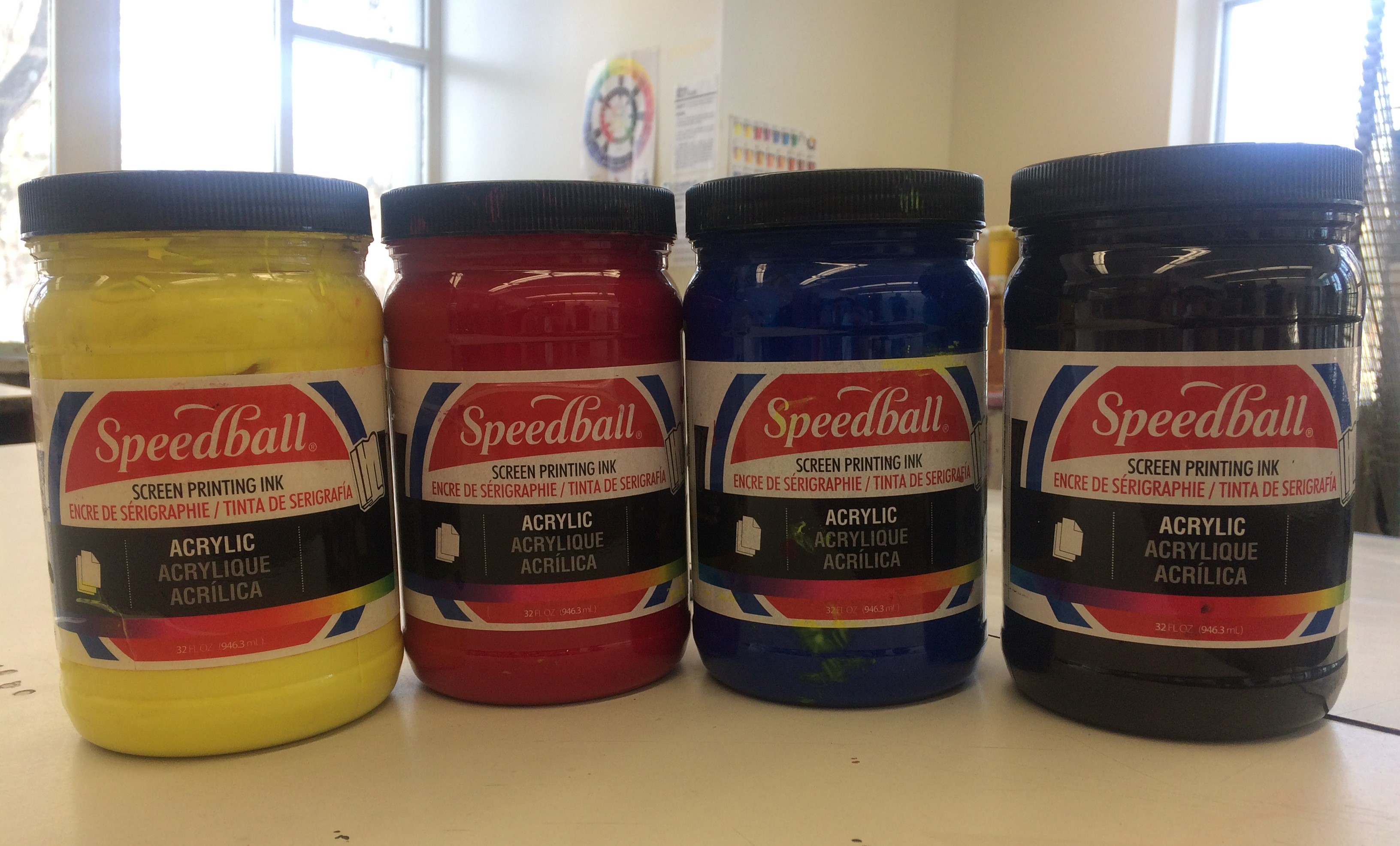 Water Soluble Transparent Extender Base
Water soluble screen inks can be mixed with this transparent extender. Colours maintain their brilliance while achieving a transparent finish. 
Cleaning Screens, Squeegees, Spatulas, etc.
There is a common misconception that because water can be used for cleaning screens, squeegees and tools, that the waste water can just be discharged in the sewer. However, the water-based ink is not just water. There are pigments, binders, thickeners, and sometimes, even co-solvents in the ink residue. Screen cleaning systems that can at least capture the solids are still recommended. In addition, water-based that has not been catalyzed can be returned to its container for reuse. If the ink has been catalyzed, it should be considered hazardous waste unless it can be dried out (all water and solvent removed) before discarding. If it cannot be dried, it should be disposed of as hazardous waste.
Water Based Acrylic Screen-Printing Ink
Formulated for the quality-minded, professional screen printer, these inks print well on paper, wood, cardboard and certain vinyls. They have a vivid, water-resistant, matte finish when dry.
These inks combine the permanence and intense colour of oil-based inks with the convenience of water wash-up. They may be used with speedball Diazo and Bichromate photo emulsions, screen filler and lacquer-based cut-film stencil. They can also be extended with speedball extender base or retarder base.
Water Based Screen-Printing Inks for Textiles
Water based inks are designed for use on cotton, polyester, blends, linen, rayon and other synthetic fibers (not nylon). They also work great on paper and cardboard. The ink is wash fast when properly heat-set. Non-flammable and contains no solvents or offensive smell. Marked as AP non-toxic and features archival qualities. Water-based ink utilizes either dyes or pigments in a suspension with water as the solvent. This curing can take place either at room temperature or with the assist of a dryer depending upon the specific water-based ink used and the speed or volume of production.
If you are new to water based inks, these inks come pre-mixed, and are offered in a large selection of the most commonly used colors. You can print with them right out of the bucket onto lighter fabrics, or use a white or discharge under base to get more vibrant prints on dark garments. Different manufactures produce ink use with different ratios such as 80 percent transparent base, 20 percent opaque base and pigment, which gives the inks high coverage and helps to keep them on top of the fabric for the most vibrant colors possible.
Textile Acrylic Retarder Base
This product helps prevent the drying time of inks, and the clogging of screens under high or low humidity conditions.
Platisol Ink for Textiles
There are two main types of ink that are used for textile printing: water based inks and Plastisol inks. Plastisol ink is a PVC (polyvinyl chloride) based system that essentially contains no solvent at all. Along with UV ink used in graphic screen printing, it is referred to as a 100% solid ink system. Plastisol can best be described as a "user-friendly" ink because it is very easy to manage. Plastisol can be left in the screen for extended periods of time without clogging the mesh. Plastisol does not "dry". For a compound to dry, there must be evaporation of solvent. Since plastisol has little or no solvent, it cannot dry. Plastisol is extremely versatile in that most printers never must amend the ink. They can use it direct from the container without ever adjusting the viscosity or the strength. Plastisol comes in strengths from transparent to very opaque and most printers will have the various versions available to use, depending upon the type and color of fabric they are printing on. The various opacities of ink also vary greatly in price with the most opaque being the most expensive, mainly due to the cost of the increased pigment. So, good shop management dictates that the proper opacity be applied to each fabric to be cost effective.
Water-based ink is also much more aggressive than plastisol towards the emulsion that is used to create the screen stencil. Emulsion manufacturers all make "water-resistant" emulsions that must be used for water-based printing. If standard emulsion is used, the water-based ink will destroy the stencil by melting the emulsion is as little as a few minutes. Even when the proper emulsion is used, screen life tends to be much less with water-based printing than it is for plastisol printing.
Modifiers
Acrylic Extender Base which is designed to create a transparent colour.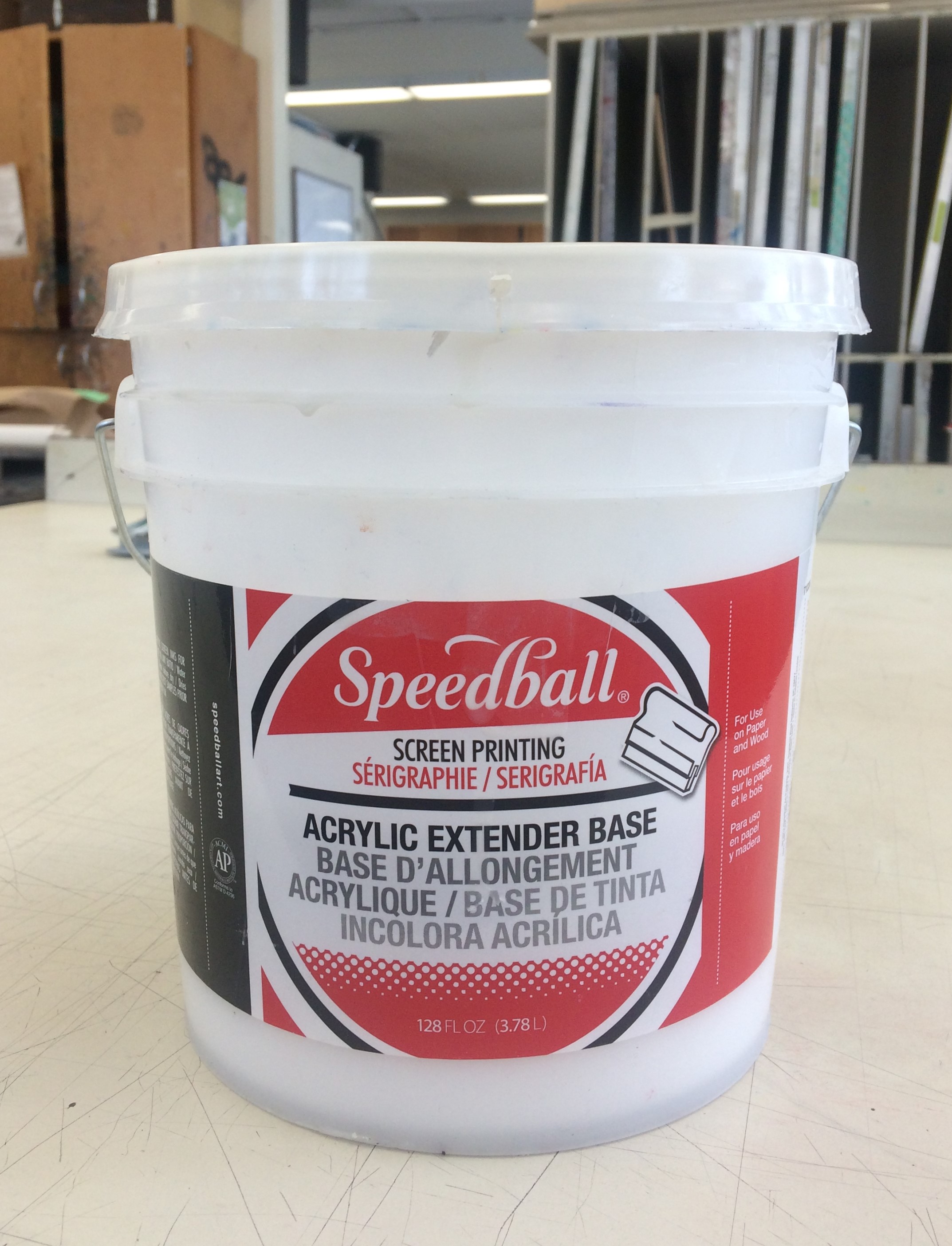 Transparent Base is designed to create a transparent colour for fabric/acrylic inks. Not to exceed 10-15% quality added to the ink.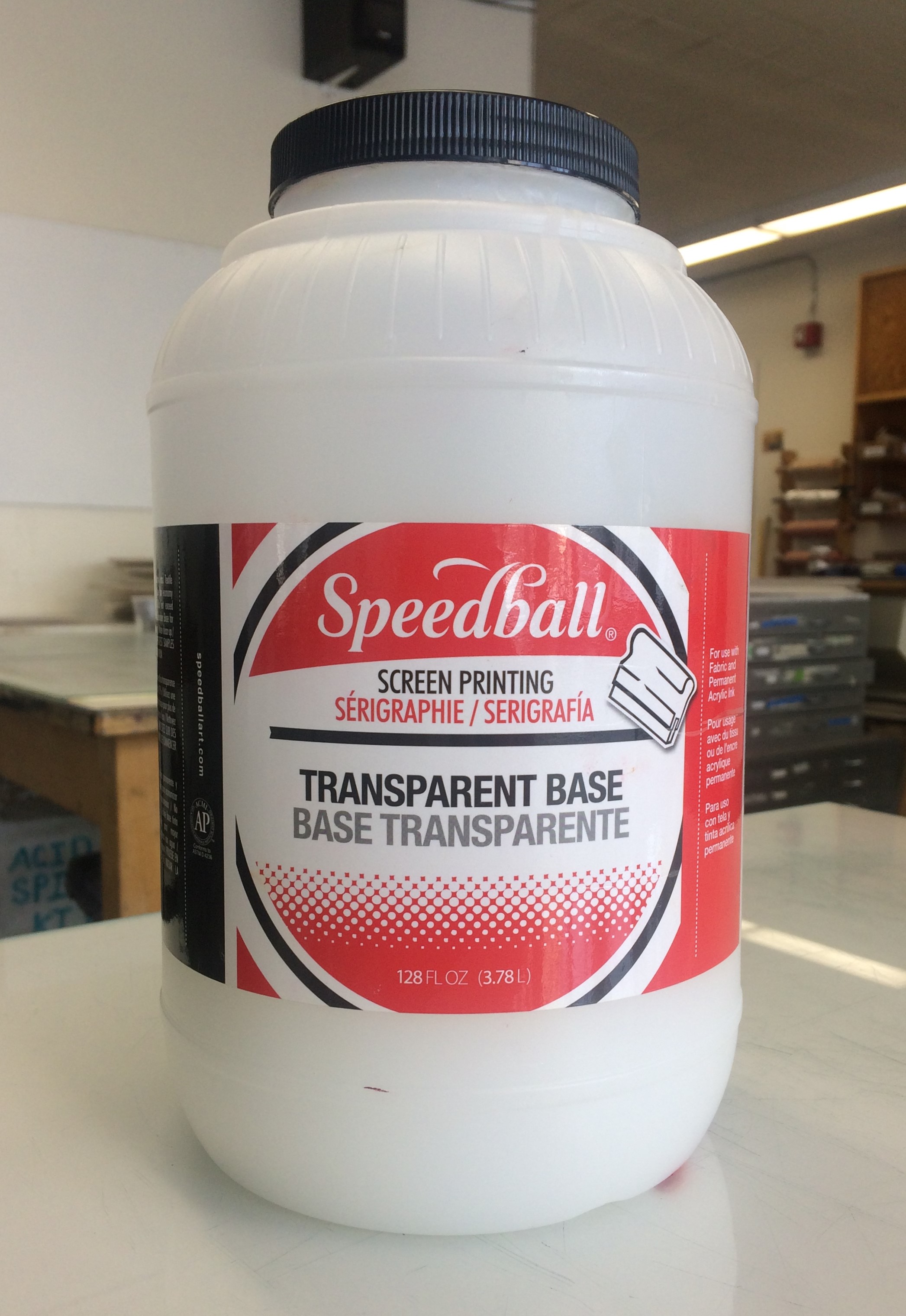 Water Soluble Transparent Extender Base is designed to create a transparent colour for water soluble inks.
Fabric/Acrylic Retarder Base slows the drying time of the inks.
Another option for a retarder would be Glycerine which can be found in drugstores.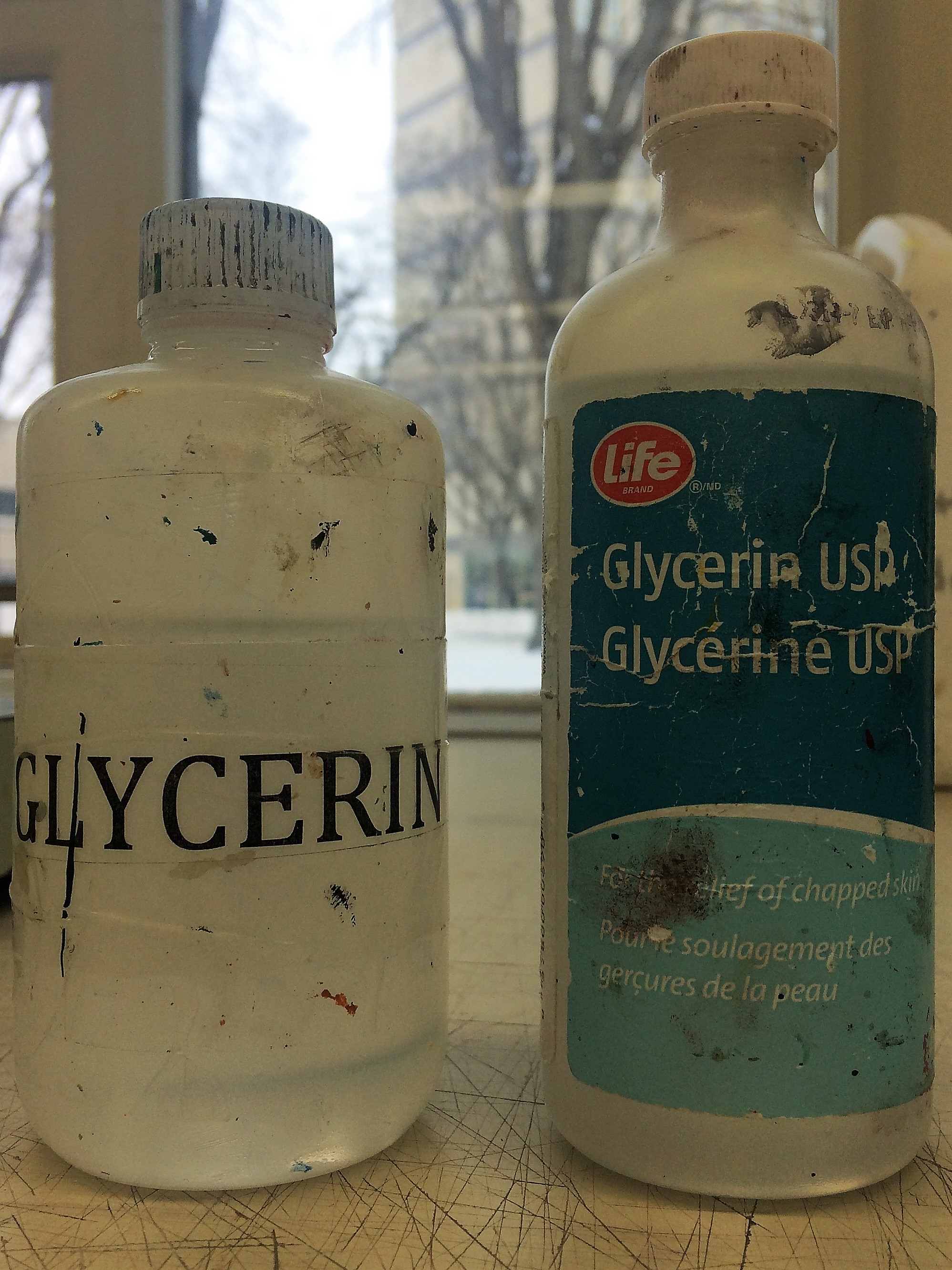 Screen Maintenance
Safer Screen-printing
Water-based screen printing benefits both the environment and printmaker's personal health. The Printers' National Environmental Assistance Center states "Screen printing is arguably the most versatile of all printing processes." Since rudimentary screen printing materials are so affordable and readily available, it has been used frequently in underground settings and subcultures, and the non-professional look of such DIY culture screen prints have become a significant cultural aesthetic seen on movie posters, record album covers, flyers, shirts, commercial fonts in advertising, in artwork and elsewhere.
Screen printing shops need to use chemicals to complete tasks such as reclaiming, ghost removing, and degreasing. Alternative methods to cleaning screens such as dip tanks, closed loop filtering systems, or holding tanks are a viable option. Dip tanks are self-contained chemical baths to "dip" the screens to remove ink and emulsion before they final washed. There are several water filtration systems available to aid in catching much of harmful byproducts from going down your drain. Many screen printers have septic systems at the location where they operate, and it is merely an extra precaution you must take.
"Printers are a rigid breed and once they have developed a system of printing that works well, they are reluctant to change. I myself had felt this reluctance. I didn't realize that if something is poisoning you and the environment it can hardly be working well, even though the product looks good. Once, when I was working for another print studio in New York City, and I was traveling home on the subway, I overheard two people commenting on how they thought they were painting the subway cars. But I knew it was only me, my clothes smelled of silkscreen ink."                                                            -Roni Henning
Roni Henning's latest book Water-Based Screenprinting Today published by Watson-Guptill is also available at amazon.com
Contact:
Email        roniprint@aol.com
Website    www.ronihenning.com
Phone       917-841-5704
Solvent based screenprinting inks are certain emulsion removers are toxic
Check all ingredients and safety measures before considering using any solvent based inks, as these have a much poorer safety record than water based products (the cancer hazard is significant, even for short term use). You can also remove emulsion with Bleach.  Printers have used that for years but they then follow it up by cleaning any ink residue from their screens with acetone. Acetone is unhealthy. Bleach also unhealthy and takes longer.  
Converting to Water based Screenprinting
Videos
Screen printing
(source: Printmaker's Compendium)
Screen Print: Step One – Making a Pattern
Screen Print: Step Two – Coating A Screen
Screen Print: Step Three - Oiling Paper
Screen Print: Step Four – Exposing Your Screen
Screen Print: Step Five – Printing
Screen Print: Step Six – Cleaning
Cleaning Tips
Reclaiming Screens
REQUIRED PERSONAL SAFETY EQUIPMENT (FOR USING SCREENPRINT WASHOUT ROOM + USING AIRBRUSH, ETC.)
- 3M Respirator (half face mask)
small (7501), medium (7502) or large (7503)
- Organic vapor Cartridges (6001)
keep in respirator in sealed Ziplock bag between use
requires a fit test.
3M R95 Dust Mask (organic vapor)
keep in sealed Ziplock bag between use
does not require a fit test

Nitrile Gloves (boxed disposable gloves)
Chemical Resistant Gloves (green)
Cleaning Screenprinting Area
Squeegees, bowls, spatulas, must be cleaned with warm water and soap. Dry squeegees using paper towel and hang back to fully dry.
Remove all registration tabs, tape, traces of ink, and applied glue from printing station. Remove ink from acetate with water.
Using Citrasolve, soak the residual glue for five minutes and scrape using a paint scraper.
Clean surfaces using warm water and dish soap, rinsing thoroughly. For stubborn stains, use warm water and Comet. Finish with water and vinegar mixture.​
Screen Clean-Up
WATER SOLUBLE INKS
Use warm water and a soft brush. These inks will remain water-soluble even after thorough drying.
FABRIC and ACRYLIC INKS
Wash IMMEDIATELY after the last print is pulled. Use warm water and a soft brush.
Should ink dry in the screen; spray with Speed Clean by Speedball® or a house hold window cleaner. Rub with a lint-free cloth. When ink is removed, was with a mix of warm water and dishwasher detergent using a soft brush. Rinse with warm water.
DRAWING FLUID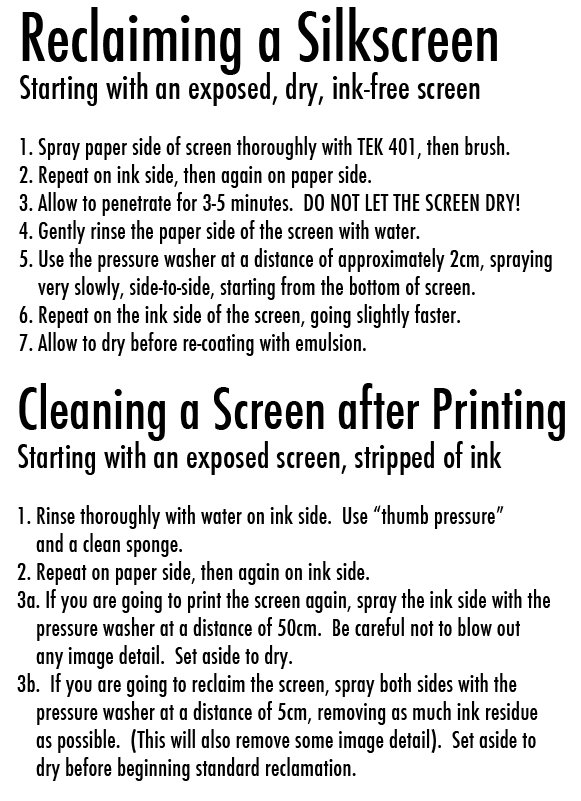 Biodegradable Screen cleaning products
Normalization Traitment de Surface - NTS provides a water-dilutable cleaner for washing screens. These products are biodegradable, and are safe to use and safe for the environment.
Non-toxic screen De-hazer made from Soyabeans.
http://www.franmar.com/index.php?main_page=product_info&products_id=52
A company in BC sells it…
http://www.screenprintsupplies.ca/haze-removers.html
Non-toxic screen cleaners
http://www.franmar.com/index.php?main_page=product_info&cPath=96&products_id=49
http://www.franmar.com/index.php?main_page=product_info&cPath=97&products_id=50