From His Perspective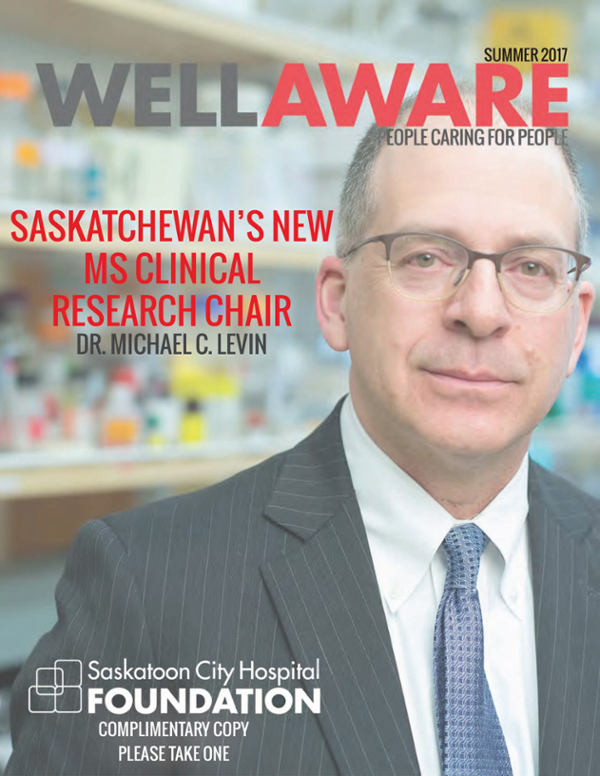 The rates of multiple sclerosis (MS), a debilitating neurological disease, are amongst the highest in the world in Canada.
In Saskatchewan, they may be even higher, where an estimated 3,500 to 3,700 people live with MS.
The U of S has recruited Dr. Michael Levin as the inaugural Chair in Multiple Sclerosis Clinical Research. Levin, who began his seven-year term in March 2017, will lead the research program focused on identifying causes of MS and developing new or improved treatments. 
"I've dedicated most of my adult life to exploring the causes of MS and the care of people with MS and I am grateful and humbled to be named the inaugural chair," said Levin, a neurologist who was previously a professor in the College of Medicine at the University of Tennessee Health Science Center, and director of the Multiple Sclerosis Center and Laboratory of Viral and Demyelinating Diseases, in Memphis, Tenn. 
Levin, who has always been interested in neurosciences and completed his medical degree at Pennsylvania State University and a post-doctoral fellowship focused on multiple sclerosis at the National Institutes of Health in Bethesda, MD., said his interest in MS was sparked in the early '90s when "I met a couple of MS patients at the hospital, they were always strikingly young, intelligent and mid-career, so watching them become disabled was disturbing and at that time there were no FDA approved medications."
Since then, his research has focused on the relationship between viruses, autoantibodies and acquired DNA mutations as potential causes of multiple sclerosis. 
At the U of S, Levin will lead a team of researchers, clinicians and students that includes Dr. Ilia Poliakov, Director of the MS Clinic, Dr. Katherine Knox, whose research focuses on MS and mobility, and Valerie Verge, director of the Cameco Neuroscience Research Centre, whose research focuses on nerve injury and repair mechanisms. Drs. Knox and Verge are U of S College of Medicine researchers.
"There really is a fair amount of infrastructure here already," said Levin. "As a research chair, I think one of my major responsibilities is to get the pieces here to collaborate… We will make significant advances in MS by providing world-class care and cutting-edge research, garnering a national and international reputation for excellence."
Biography
Michael C. Levin, M.D. is the Saskatchewan Multiple Sclerosis Clinical Research Chair and Professor of Neurology and Anatomy, Physiology and Pharmacology and at the University of Saskatchewan in Saskatoon, Saskatchewan.
Dr. Levin received his Bachelors' of Science degree in chemistry with special honors at the George Washington University in Washington D.C. It was at 'GW' where Dr. Levin began his research career studying the role of thymic peptides in nervous system infections. He completed his medical degree at the Pennsylvania State University. To acquire greater depth into neuroscience research, Dr. Levin took a year sabbatical from medical school to study central nervous system control of hypertension at The Salk Institute under the direction of Drs. Max Cowan and Paul Sawchenko. Understanding that clinical expertise was equally important as experience at the bench, Dr. Levin completed his residency training in neurology at The New York Hospital/Cornell Medical Center – Memorial Sloan Kettering Cancer Center in New York City. Drs. Fred Plum and Jerry Posner mentored him during his residency including while he was chief neurology resident during his final year of training. In order to apply both his basic science and clinical skills to a neurological disease, Dr. Levin spent four years working in the Neuroimmunology Branch – the translational research group specifically focused on MS - at the National Institutes of Health in Bethesda, Maryland.
Subsequently, Dr. Levin was recruited by the University of Tennessee Health Science Center and Veterans Affairs Medical Center in Memphis, Tennessee, to create both a clinical and research program in MS.  Being fortunate to be mentored by some of the greatest leaders in neurology and neuroscience, afforded Dr. Levin the foundational skills required to develop a vision for translational research in MS. Clinically, Dr. Levin followed more than 500 MS patients, his work has been recognized by the National Multiple Sclerosis Society for the first ever clinical trial in MS in Memphis, has been elected into the Best Doctors in America database from 2005-18.
Professor Levin has received more than 30 awards for academic excellence. Professor Levin's research into the pathogenesis of MS includes work in molecular mimicry and neurodegeneration. His focus on neurodegeneration led to the seminal discovery that there are stress granules in neurons in persons with MS, first reported in the Journal of Neuroimmunology. This is important because under pathologic conditions like those present in the brains of MS patients, stress granules can contribute to nerve cell death. Dr. Levin's lab is testing medications designed to inhibit the pathologic features of stress granules.
His work has also been published in The New England Journal of Medicine, Nature Medicine, Annals of Neurology, Neurology and the Journal of Comparative Neurology. His research has received national recognition from the American Academy of Neurology & the Society for Neuroscience. Dr. Levin teaches residents, graduate and medical students and was awarded the University of Tennessee Golden Apple Teaching Award.
Most recently, Dr. Levin was recruited to the University of Saskatchewan as the inaugural Saskatchewan Multiple Sclerosis Clinical Research Chair.  He joins a team of scientists and physicians including Drs. Val Verge, Katherine Knox, Bogdan Popescu, Ilia Poliakov, and Charity Evans with the ultimate goal of creating a world-class MS center in Saskatchewan with an international reputation for clinical research excellence.
Dr. Levin is married to his lovely wife for more than 25 years, Dr. Audrey Zucker-Levin, an academic physical therapist. He has two strappingly handsome sons and is an avid sailor and scuba diver.
Recent Publications
Freedman MS, Devonshire V, Duquette P, Giacomini PS, Giuliani F, Levin MC, Montalban X, Morrow SA, Oh J, Rotstein D, Yeh EA, Canadian MS Working Group (2020) Treatment Optimization in Multiple Sclerosis: Canadian MS Working Group Recommendations. Can J Neurol Sci.47(4):437-455. PMID: 32654681
Salapa HE, Hutchinson C, Popescu BF, Levin MC (2020). Neuronal RNA-binding protein dysfunction in multiple sclerosis cortex. Ann Clin Transl Neurol

. 7(7):1214-1224. 

PMCID:PMC7359129
Knox, KB, Saini, A, Levin, MC (2020) The Dilemma of When to Stop Disease-Modifying Therapy in Multiple Sclerosis: A Narrative Review and Canadian Regional Reimbursement Policies. International Journal of MS Care Vol. 22,2 (2020): 75-85. PMCID: PMC7204360
Lee, S., Salapa, HE, Levin, MC (2019). Localization of near-infrared labeled antibodies to the central nervous system in experimental autoimmune encephalomyelitis. PLoS ONE. 14(2): 1-10. PMCID: PMC6377130
Salapa, H, Johnson, C, Hutchinson, C, Popescu, B, Levin, MC (2018). Dysfunctional RNA binding proteins and stress granules in Multiple Sclerosis. Journal of Neuroimmunology. 324: 149-156. PMID: 30190085
Levin, MC & Kahovec C (2019) Stabilization without rituximab following disease activation in an alemtuzumab treated multiple sclerosis patient and overview of the literature. International Journal of MS Care Vol. 21,3 (2019):125-128. PMCID: PMC6552997
Levin MC, Lee S, Gardner LA, Shin Y, Douglas JN, Salapa HE. (2017). Autoantibodies to heterogeneous nuclear ribonuclear protein A1 (hnRNPA1) cause altered 'ribostasis' and neurodegeneration; the legacy of HAM/TSP as a model of progressive multiple sclerosis. J Neuroimmunol. 304: 56-62. PMID: 27449854
Salapa HE, Lee S, Shin Y and Levin MC. (2017). Contribution of the degeneration of the neuroaxonal unit to the pathogenesis of multiple sclerosis. Brain Sciences. 7(6): 69. PMCID: PMC5483642
Douglas JN, Gardner LA, Salapa HE, Lalor SJ, Lee S, Segal BM, Sawchenko PE, Levin MC. (2016). Antibodies to the RNA binding protein hnRNP A1 contribute to neurodegeneration in a model of central nervous system autoimmune inflammatory disease. J Neuroinflammation. 13(1): 178. PMCID: PMC4938923
Douglas JN, Gardner LA, Salapa HE, Levin MC. (2016). Antibodies to the RNA binding protein heterogeneous nuclear ribonucleoprotein A1 colocalize to stress granules resulting in altered RNA and protein levels in a model of neurodegeneration in Multiple Sclerosis. J Clin Cell Immunol. 7(2): 402. PMCID: PMC4928374
Tang J, Bailey J, Chang C, Faris R, Hong SH, Levin MC, Wang J. (2016). Effects of specialty pharmacy care on health outcomes in multiple sclerosis. American Health Drug Benefits. 9(8): 420-29. PMCID: PMC5394553
Gardner LA, Levin, MC. (2015). Importance of Apolipoprotein A-I in Multiple Sclerosis. Front Pharmacol. 6: 278. PMCID: PMC4654019
Levin MC, Jackson WC. (2014). Developing a therapeutic plan for treating MS: evidence for new treatments. J Clin Psychiatry. 75(12): e34. PMID: 25551246
Ganta K, Malik A, Wood JB, Levin MC. (2014). Radial contrast enhancement on brain magnetic imaging diagnostic of primary angiitis of the central nervous system: case report and review of the literature. (Editor's Featured article) . J of Medical Case Reports. 8(26): 1-5. PMCID: PMC3917527
Meyers L, Groover CJ, Douglas J, Lee S, Levin MC, Gardner LG. (2014). A role for Apolipoprotein A-I in the pathogenesis of multiple sclerosis. Journal of Neuroimmunology. 277(1-2): 176-85. PMID: 25468275
Levin MC, Douglas JN, Meyers L, Lee S, Shin Y, Gardner LA.(2014). Neurodegeneration in multiple sclerosis involves multiple pathogenic mechanisms. Degenerative Neurological and Neuromuscular Disease. 4: 49-63. PMCID: PMC7337253
Lee S, Levin MC. (2014). Novel somatic single nucleotide variants within the RNA binding protein hnRNP A1 in multiple sclerosis patients. (Editor's featured article). F1000Research. 3(132): 1-19. PMCID: PMC4168748
Levin MC, Lee S, Gardner LA, Shin Y, Douglas JN, Cooper C. (2013). Autoantibodies to non-myelin antigens as contributors to the pathogenesis of multiple sclerosis. J Clin Cell Immunol. 4: 148. PMCID: PMC3866957
Douglas JN, Gardner L, Levin MC. (2013). Antibodies to an intracellular antigen penetrate neuronal cells and cause deleterious effects. J Clinical & Cellular Immunology. 4(1): 134. 
Gardner LA, Desiderio DM, Groover CJ, Yates CR, Zucker-Levin AR, Bloom L, Levin MC. (2013). LC-MS/ MS Identification of the one carbon cycle metabolites in human plasma.Electrophoresis. 34: 1710-1716. PMID: 23417555
Levin MC, Lee S, Gardner L, Shin Y, Douglas J, Groover C. (2012). Pathogenic mechanisms of neurodegeneration based on the phenotypic expression of progressive forms of immune-mediated neurologic disease. Degenerative Neurological and Neuromuscular Disease. 2: 175-187. PMCID: PMC6065584
Lee S, Shin Y, Clark D, Gotuzzo E, Levin MC. (2012). Cross-reactive antibodies to target proteins are dependent upon oligomannose glycosylated epitopes in HTLV-1 associated neurological disease. Journal of Clinical Immunology. 32: 736-745. PMID: 22392044
Douglas J, Gardner L, Lee S, Shin Y, Groover C, Levin MC. (2012). Antibody transfection into neurons as a tool to study disease pathogenesis. Journal of Visualized Experiments. 7(67): e4154. PMID: PMC3490253