About Me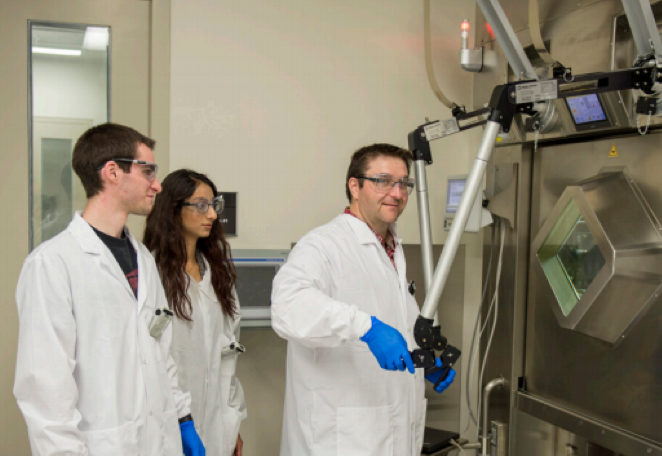 I grew up in the small town of Arcola, Saskatchewan located in the southeast part of the province.  Although having typical interests in camping, fishing and roughrider football, I have developed a passion for applying chemistry and nuclear medicine to help answer important questions regarding enzyme activity in cells, plants, animals and humans.  More specifically, we are developing probes that target cysteine proteases which are enzymes that digest other proteins and peptides and are known to play an important role in cancer, arthritis and some forms of dementia.  Additionally, we are developing tools to study the activity of glucocerebrosidase, a glucosidase that hydrolyzes glucose from glucosylceramide.  We are interested in studying this enzyme in the context of Gaucher and Parkinson's disease. I recently moved my laborotary from Thunder Bay to Saskatoon given the strong support that the University of Saskatchewan, the province of Saskatchewan and local funding organizations (such as the Silvia Fedoruk Centre for Nuclear Innovation, SHRF) have provided for nuclear-based research.  
Academic Background
Assistant Professor of Chemistry, the University of Saskatchewan, Saskatoon, Canada, 01/2016 - present.
Associate Member of Medical Imaging, the University of Saskatchewan, Saskatoon, Canada 01/2017 - present.
Scientist at the Thunder Bay Regional Research Institute, 09/2009 - 01/2016.
Assistant Professor of Medical Sciences Division, Northern Ontario School of Medicine, 2013 - present.
Postdoctoral Fellow: Radiochemistry, employing PET.  With Dr. Stephen Withers at UBC and Michael Adam at TRIUMF, Vancouver, Canada, 10/2006 – 08/2009. 
Doctorate in Chemistry (Ph.D.): Bioinorganic and enzymology.  With Dr. David Palmer at the University of Saskatchewan.  09/2000 – 04/2006. 
Bachelor of Science (Chemistry and Biochemistry dual major): University of Regina, Canada, 09/1994 - 04/2000.
Relevant (and not so relevant) Work Experience
Farm kid providing free labor for my father and the father's of my friends.
CO-OP pumping gas, fixing tires, building small farm equipment and chatting with locals.
Provincial Health Laboratory on the sexually transmitted disease team (seriously).
Teaching Assistant, the University of Saskatchewan
Postdoctoral Fellow at UBC and TRIUMF, helping with QC analysis of FDG.
Research Collaborations
Cysteine Proteases:  Drs. Wely Floriano (Chem, Lakehead University), Eric Price (Radiochem, Usask) developing probes and prodrugs inspired radiotracers.

Glucocerebrosidase:  Drs. Simon Lees (Physiology, NOSM), Brian Rempel (Chem, U of Alberta), Rebecca Davis (Chem, U of Manitoba), David Palmer (Chem, Usask), Darrell Mousseau (Pathology, Usask), Lysosomal Therapeutics Inc. (Parkinson's drugs, Boston)

Other projects:  Drs. Ed Krol (Pharmacy, Usask) developing radioatracers to image synuclein, Gregg Adams (Vet Med, Usask) labeling OIF to image uptake in llamas and Sue Abrams (Chemistry formerly NRC) to image Abscisic acid analogs for plant phenotyping with PhytoPET.