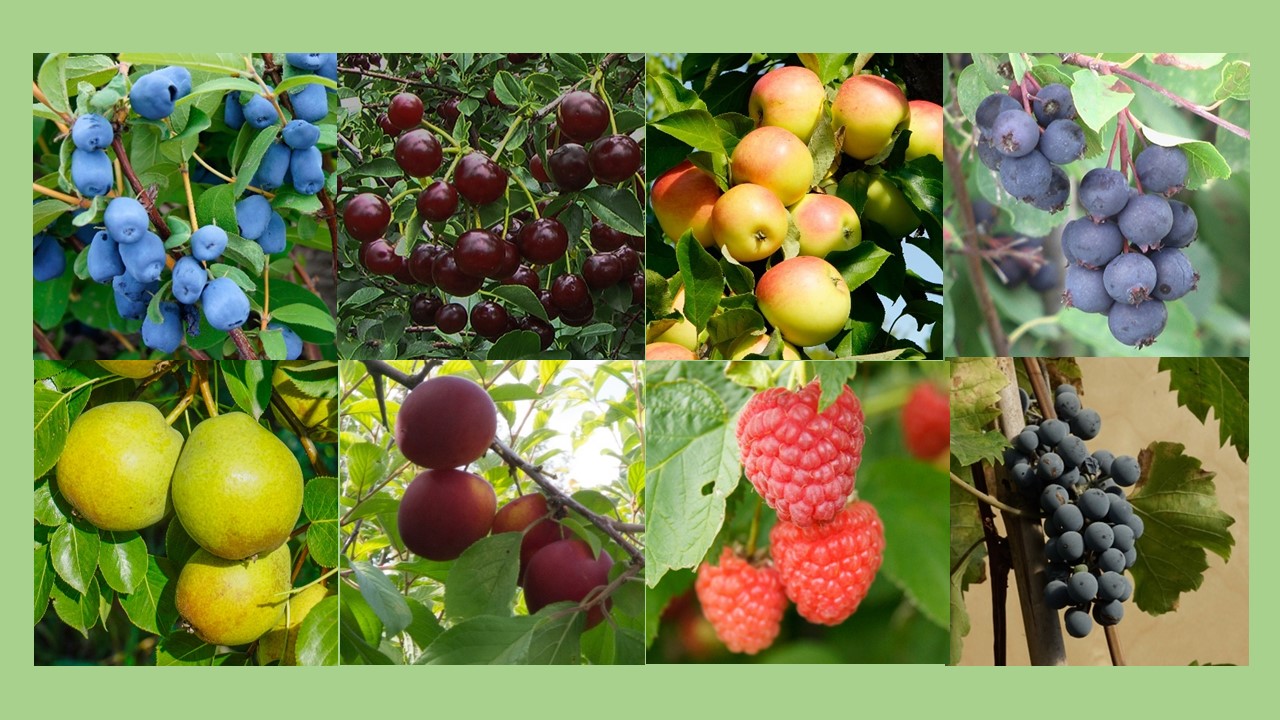 Our breeding program is located in one of the coldest locations in the world where fruit is being bred. We may be the coldest location where some crops, like sour cherries, are being bred. We maintain a collection of over 20 fruit crops most of which we are breeding to some extent.  In recent years we have emphasized breeding of Haskap, Sour cherries, Hazelnuts, and Apples.  We have smaller breeding projects involving pears, grapes, plums, sandcherries, cherry plums, saskatoons and strawberries.  We have also been breeding coleus, ornamental Prunus,  and weeping crabapples.  The last few years we have been gathering germplasm of rhubarb, hydrangea and hops and are considering breeding them. We also have collections of other fruit that we are not currently breeding: chokecherries, sea buckthorn, black currants, and raspberries. 
Located on campus, our breeding program occupies about 50 acres.  Previous to Covid-19 we held several educational events workshops throughout the year. We plan to make online versions of some of these in the near future.
When people buy our varieties from licenced nurseries, the royalties go back to our fruit breeding program.  65% goes directly to the program while 35% goes into an equipment fund that benefits horticulture research at our University. Over the years we have received strong support from Saskatchewan Agriculture's Agriculture Development Fund.
News
2023 Plant sale update!!!
Here is the link to our online plant sale  https://communityconferences.usask.ca/index.aspx?cid=655. 
Below is a list of the plants that will be in the online portion of the sale that starts Friday, May 19th.  There will be limits on some of the cultivars but not everything.  The haskap, sour cherries, currants, raspberries, highbush cranberry, rhubarb, lilacs, pussy willows and red dogwood are all $5 plus taxes.  The bare-root strawberries are 10 for $10 plus taxes and the bare-root asparagus are 5 for $10 plus taxes.  There will also be cherry and haskap cookbooks, Bob & Sara's book "Growing Fruit in Northern Gardens" and haskap T-shirts for sale. 
For the in-person/pick-up portion of the sale at our field lab (Friday, June 2, 9am-3pm & Saturday, June 3, 9am-noon) we will have additional plants for sale not listed in the online sale so please bring cash or cheque if you would like to purchase more plants at that time.
 

We cannot accept credit card or e-transfers for the in-person sale.
  The plants available at this time include apples (various varieties), coleus, succulents, lemongrass, oxalis, geraniums, water plants (papyrus, canna lilies, pennywort, water lettuce), and other assorted plants.  Prices for these plants vary as they are all in different sized pots/mixed packs. 
ONLINE SALE PLANT LIST:
Haskap
Boreal Beast (limit of 5)
Boreal Beauty (limit of 5)
Boreal Blizzard (limit of 5)
Aurora (limit of 5)
Honey Bee (limit of 5)
Indigo Gem (limit of 5)
Sour Cherries
Romeo (limit 2)
Juliet (limit 2)
Carmine Jewel (limit 2)
Valentine (limit 2)
Cupid (limit 2)
d'Artagnan (limit 2)
Currants
Ben Nevis (limit of 5)
Consort (limit of 5)
Missouri (limit of 5)
Raspberries
Red Mammoth (limit of 2)
Red Bounty (limit of 2)
Yellow (limit of 2)
Highbush Cranberry
Garry Pink (limit of 5)
Asparagus (these are 5 for $10)
Guelph Millenium (limit of 30)
Day-neutral Strawberries (these are 10 for $10)
Albion (limit 30)
Sweet Anne (limit 30)
Seascape (limit 30)
Lilacs
Common (purple) Lilac (no limit)
Villosa (light pink) Lilac (no limit)
Pussy Willows (no limit)
This year we will be doing the online preorder and pick-up again with a smaller in-person sale just like last year.
Online preorders will open May 19th and the in-person pick-up/sale will be Friday, June 2nd, 9 am to 3 pm and Saturday, June 3rd, 9 am until noon.
We have more apples than we have ever had at our sale including the newly released columnar apple TreasuRed. Also, we will have Haskap, strawberries, currants, Missouri currants, Asparagus, raspberries, and more. 
Our program focuses on breeding zone 2 hardy fruit. Proceeds from our sale help us continue to develop new and exciting varieties that grow here!
If you already have an account for our sale website it would be a good idea to ensure you can log in before the sale goes live. If you don't have an account it would be helpful to set one up before the sale as this will help make things go a little smoother. Please go to https://communityregistration.usask.ca/aspnet/login/ to set up an account.
Dates for the summer of 2022
June 3 and 4 Plant Sale
July 15: Haskap Course
July 16: Haskap Field Day
August 13: Cherry & Strawberry Workshop
Passing of Dr. Maxine M. Thompson
We were very saddened to hear of the passing of our dear friend
 Dr. Maxine M. Thompson. She contributed greatly to our program. From her vast knowledge that she readily shared, to sharing of haskap genetics she was a great asset to us, but more importantly she was a friend. She will be missed greatly. 
The following was written by Dr. Kim Hummer, head of the USDA genebank in Oregon.  Most of Maxine's breeding work was carried out on the genebank's land. Kim was an associate of Maxine for several decades.
Emeritus Professor Dr. Maxine M. Thompson, Horticulturist, Plant Explorer (1926 – 2021)
Bob Bors and Rick Sawatzky, win prestigious Stevenson Award
| | |
| --- | --- |
| | Bob Bors and Rick Sawatzky, win prestigious Stevenson Award for their development of sour cherries and haskaps |
Growing Fruit in Northern Gardens.......
| | |
| --- | --- |
| | A description of this book is on our book page.  It is available at the University of Saskatchewan bookstore, McNally Robinson Bookstore, and by contacting the authors. |
New research articles on our haskap page
There are links to new research p
apers arising from Eric Gerbrandt's thesis
 on our 
haskap page