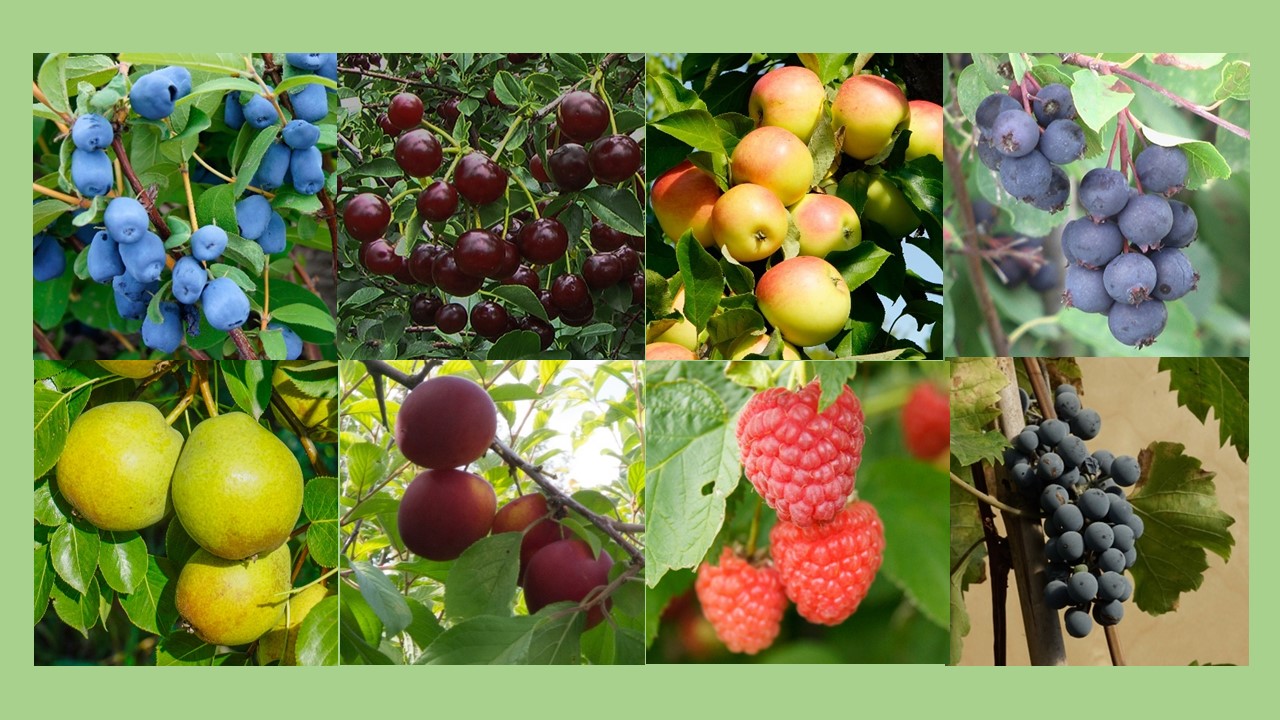 Our breeding program is located in one of the coldest locations in the world where fruit is being bred. We may be the coldest location where some crops, like sour cherries, are being bred. We maintain a collection of over 20 fruit crops most of which we are breeding to some extent.  In recent years we have emphasized breeding of Haskap, Sour cherries, Hazelnuts, and Apples.  We have smaller breeding projects involving pears, grapes, plums, sandcherries, cherry plums, saskatoons and strawberries.  We have also been breeding coleus, ornamental Prunus,  and weeping crabapples.  The last few years we have been gathering germplasm of rhubarb, hydrangea and hops and are considering breeding them. We also have collections of other fruit that we are not currently breeding: chokecherries, sea buckthorn, black currants, and raspberries. 
Located on campus, our breeding program occupies about 50 acres.  Pervious to Covid-19 we held several educational events workshops throughout the year. We plan to make online versions of some of these in the near future.
When people buy our varieties from licenced nurseries, the royalties go back to our fruit breeding program.  65% goes directly to the program while 35% goes into an equipment fund that benefits horticulture research at our University. Over the years we have received strong support from Saskatchewan Agriculture's Agriculture Development Fund.
News
Plant Sale update!!!
U of SK fruit Program Plant Sale, 2022
This year we will again be doing things differently. This is our plan for now assuming no new pandemic issues pop up. We will be doing both an online order and in person sale. This is because many people last year asked up to continue doing on-line orders. 
Online sales will focus on fruit plants. This is because the fruit plants were propagated last year and we can see they are alive and growing.
In person sales will have fruit plants that were not sold online plus various ornamentals.  Most of the ornamentals were propagated this year and some are still in the process of rooting or coming up from bulbs.  Some of the ornamentals we are not too familiar with and don't know if they will be done in time for the sale nor do we know how many will be available.  Also, there a dozens of different coleus that would be easy to see in person but hard to explain or appreciate online.  Some of the coleus were raised from seed and may only be only one of a kind.
Online sales will open from Thursday, May 26 to Sunday, May 29. We won't be scheduling pickup times like last year.  Orders will be held at the tills. 
 Pickups for online sales and in-person sales will be on:
Friday, June 3, 9am to 3pm
Saturday, June 4, 9am to noon.
In the past, there has been a big rush from 9 to 11am.  If you have an online order in and don't want to wait very long, come after 11am.
The following are some of ornamentals that we are attempting to have ready in time for the sale:
Coleus: Under the sea
Coleus: Mix big leaf
Coleus: mix, various types
Coleus: Sturdy tree type
Purple Oxalis
Taro, purple stems
Cannas: green striped leaves, yellow flowers
Geraniums: Rose flowers red, pink or apple blossom
Geraniums: Pink fireworks
Mini pots of 3 succulents
Polka Dot plants
Water lettuce (for ponds)
Turmeric
Myrtle (a houseplant suitable for Bonsai)
Plants available for online ordering
Asparagus Crowns – Eclipse (bare root)
Apples -TreasuRed
Black Currants - Ben Lamond
Black Currants - Consort
Black Currants - Wellington
Cherry- Carmine Jewel
Cherry- Cupid
Cherry- Juliet
Cherry- Romeo
Cherry- Valentine
Cherry- D'artagnan
Dogwood - Red Stem
Grape- Valiant
Haskap - Aurora
Haskap - Boreal Beast
Haskap - Boreal Beauty
Haskap - Boreal Blizzard
Haskap - Honey Bee
Highbush Cranberry - Espenant
Raspberry - Red Bounty
Raspberry - Red Mammoth
Raspberry - Killarney
Raspberry - Yellow
Rhubarb- Seedlings
Saskatoon Berry - Thiessen
Strawberry: Seascape (Bare root) (Day-neutral variety, continuous bearing)
Strawberry: Sweet Anne (Bare root) (Day-neutral variety, continuous bearing)
Strawberry: Hanging Basket Albion (Day-neutral variety, continuous bearing)
Strawberry: Hanging Basket Seascape (Day-neutral variety, continuous bearing)
Strawberry: Hanging Basket Sweet Anne (Day-neutral variety, continuous bearing)
Strawberry: Cavendish (bare root) (June-bearing, 1 crop per season)
Pussy Willow
Dates for the summer of 2022
June 3 and 4 Plant Sale
July 15: Haskap Course
July 16: Haskap Field Day
August 13: Cherry & Strawberry Workshop
Passing of Dr. Maxine M. Thompson
We were very saddened to hear of the passing of our dear friend
 Dr. Maxine M. Thompson. She contributed greatly to our program. From her vast knowledge that she readily shared, to sharing of haskap genetics she was a great asset to us, but more importantly she was a friend. She will be missed greatly. 
The following was written by Dr. Kim Hummer, head of the USDA genebank in Oregon.  Most of Maxine's breeding work was carried out on the genebank's land. Kim was an associate of Maxine for several decades.
Emeritus Professor Dr. Maxine M. Thompson, Horticulturist, Plant Explorer (1926 – 2021)
Bob Bors and Rick Sawatzky, win prestigious Stevenson Award
| | |
| --- | --- |
| | Bob Bors and Rick Sawatzky, win prestigious Stevenson Award for their development of sour cherries and haskaps |
Growing Fruit in Northern Gardens.......
| | |
| --- | --- |
| | A description of this book is on our book page.  It is available at the University of Saskatchewan bookstore, McNally Robinson Bookstore, and by contacting the authors. |
New research articles on our haskap page
There are links to new research p
apers arising from Eric Gerbrandt's thesis
 on our 
haskap page