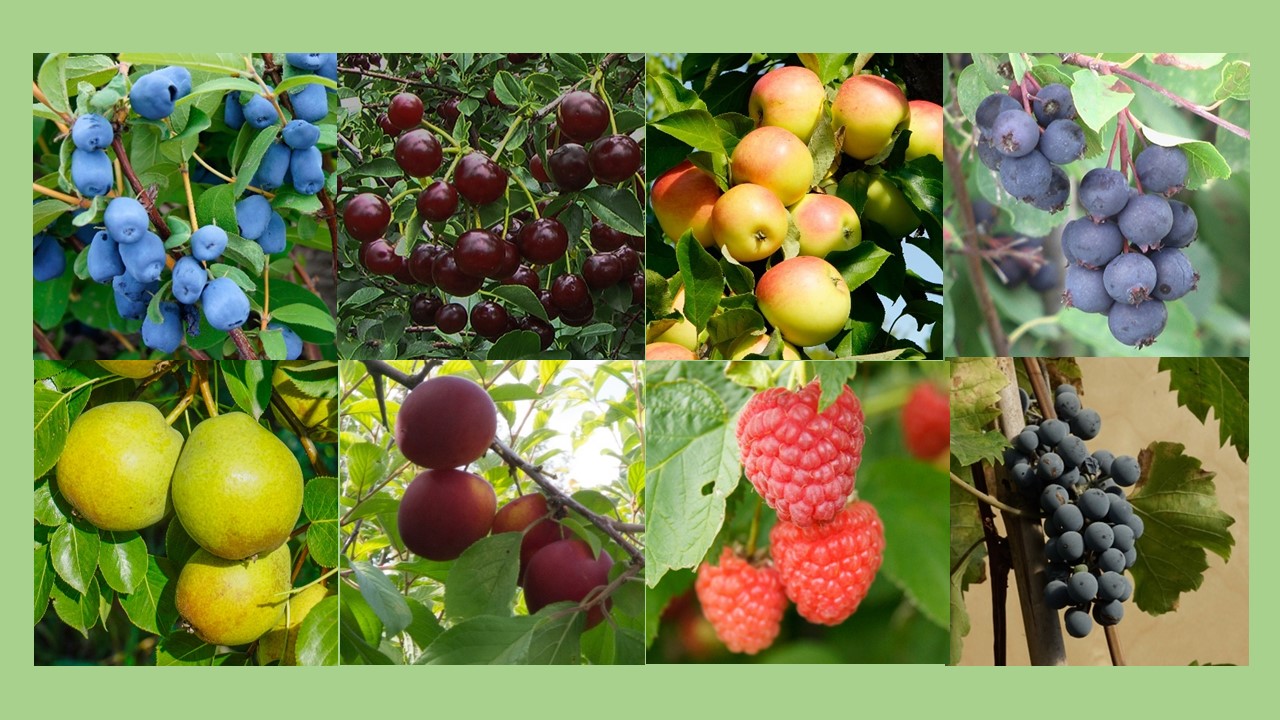 Our breeding program is located in one of the coldest locations in the world where fruit is being bred. We may be the coldest location where some crops, like sour cherries, are being bred. We maintain a collection of over 20 fruit crops most of which we are breeding to some extent.  In recent years we have emphasized breeding of Haskap, Sour cherries, Hazelnuts, and Apples.  We have smaller breeding projects involving pears, grapes, plums, sandcherries, cherry plums, saskatoons and strawberries.  We have also been breeding coleus, ornamental Prunus,  and weeping crabapples.  The last few years we have been gathering germplasm of rhubarb, hydrangea and hops and are considering breeding them. We also have collections of other fruit that we are not currently breeding: chokecherries, sea buckthorn, black currants, and raspberries. 
Located on campus, our breeding program occupies about 50 acres.  Pervious to Covid-19 we held several educational events workshops throughout the year. We plan to make online versions of some of these in the near future.
When people buy our varieties from licenced nurseries, the royalties go back to our fruit breeding program.  65% goes directly to the program while 35% goes into an equipment fund that benefits horticulture research at our University. Over the years we have received strong support from Saskatchewan Agriculture's Agriculture Development Fund.
News
Plant Sale update!!!
Thank you to all who supported the 2022 U of SK fruit Program Plant Sale, it was a great success. 
Dates for the summer of 2022
June 3 and 4 Plant Sale
July 15: Haskap Course
July 16: Haskap Field Day
August 13: Cherry & Strawberry Workshop
Passing of Dr. Maxine M. Thompson
We were very saddened to hear of the passing of our dear friend
 Dr. Maxine M. Thompson. She contributed greatly to our program. From her vast knowledge that she readily shared, to sharing of haskap genetics she was a great asset to us, but more importantly she was a friend. She will be missed greatly. 
The following was written by Dr. Kim Hummer, head of the USDA genebank in Oregon.  Most of Maxine's breeding work was carried out on the genebank's land. Kim was an associate of Maxine for several decades.
Emeritus Professor Dr. Maxine M. Thompson, Horticulturist, Plant Explorer (1926 – 2021)
Bob Bors and Rick Sawatzky, win prestigious Stevenson Award
| | |
| --- | --- |
| | Bob Bors and Rick Sawatzky, win prestigious Stevenson Award for their development of sour cherries and haskaps |
Growing Fruit in Northern Gardens.......
| | |
| --- | --- |
| | A description of this book is on our book page.  It is available at the University of Saskatchewan bookstore, McNally Robinson Bookstore, and by contacting the authors. |
New research articles on our haskap page
There are links to new research p
apers arising from Eric Gerbrandt's thesis
 on our 
haskap page