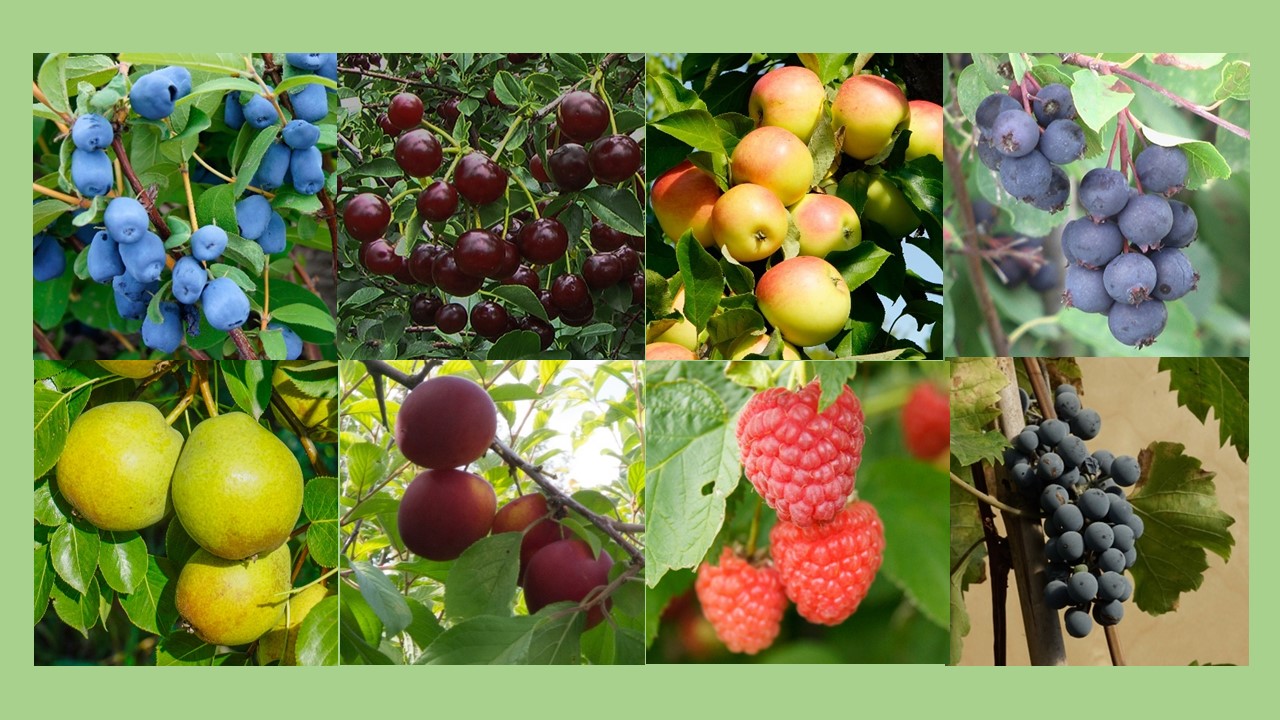 Our breeding program is located in one of the coldest locations in the world where fruit is being bred. We may be the coldest location where some crops, like sour cherries, are being bred. We maintain a collection of over 20 fruit crops most of which we are breeding to some extent.  In recent years we have emphasized breeding of Haskap, Sour cherries, Hazelnuts, and Apples.  We have smaller breeding projects involving pears, grapes, plums, sandcherries, cherry plums, saskatoons and strawberries.  We have also been breeding coleus, ornamental Prunus,  and weeping crabapples.  The last few years we have been gathering germplasm of rhubarb, hydrangea and hops and are considering breeding them. We also have collections of other fruit that we are not currently breeding: chokecherries, sea buckthorn, black currants, and raspberries. 
Located on campus, our breeding program occupies about 50 acres.  Pervious to Covid-19 we held several educational events workshops throughout the year. We plan to make online versions of some of these in the near future.
When people buy our varieties from licenced nurseries, the royalties go back to our fruit breeding program.  65% goes directly to the program while 35% goes into an equipment fund that benefits horticulture research at our University. Over the years we have received strong support from Saskatchewan Agriculture's Agriculture Development Fund.
News
Possibly cancelled, maybe Online? Haskap days will be July 16,17 2020Haskap days will be July 16,17 2020
July 16 Haskap School.  Location: room 2E35, Agriculture building at the Unversity of Saskatchewan campus. 51 Campus Drive, Saskatoon. Registration starts at 8:30 but the class runs from 9 to 3, with a break for lunch. Cost is $50.  Space is limited to 70 people. More details will be added soon. 
July 17 Haskap Field Day.  Location: U. of Sask. Campus, Horticulture Research Field. 2909 14th Street, Saskatoon. Cost is $35 per adult, kids are free.  Registration starts at 9:30 but tours, demonstrations, tasting and talks go from 10 to 3. More details will be added soon.
Please fill out the Haskap days registration form and Email it to justin.schaeffer@usask.ca
Sept2,3  International Society for Horticultural Science Haskap Berry Workshop Charlottetown, PEI 
Bob Bors and Rick Sawatzky, win prestigious Stevenson Award
| | |
| --- | --- |
| | Bob Bors and Rick Sawatzky, win prestigious Stevenson Award for their development of sour cherries and haskaps |
Growing Fruit in Northern Gardens.......
| | |
| --- | --- |
| | A description of this book is on our book page.  It is available at the University of Saskatchewan bookstore.  The publisher went bankrupt (but not the printer) and we are looking into getting available on Amazon again.  Bob usually brings some along for sale when he is a speaker at conferences, but not sure when those will happen in the near future.     |
New research articles on our haskap page
There are links to new research p
apers arising from Eric Gerbrandt's thesis
 on our 
haskap page