6th floor Health Sciences
Research Cluster
About Us
The 6th floor research cluster contains researchers from the research areas of bacteriology, virology, and immunology. There is a blend of techniques from biochemistry, microbiology, virology, molecular biology, cancer biology, humanized mouse models, and cellular immunology.
Researchers study the following organisms and diseases: Borrelia burgdorferi, Hepatitis C Virus, Human Immunodeficiency Virus, Graft versus Host Disease, Autoimmunity, and Cancer.
In addition to our diverse faculty we have a wide array of technical equipment available, including a BSL 2+ tissue culture facilty.
Contact Us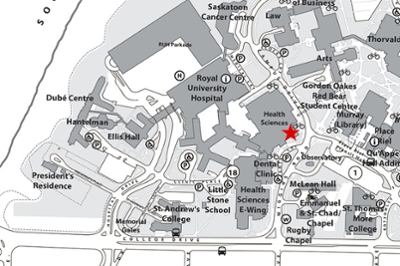 University of Saskatchewan
107 Wiggins Road
Saskatoon, SK, S7N 5E5