Dr. Richard Gray
About the Chair Holder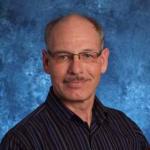 Richard Gray is a Professor in the Department of Agricultural and Resource Economics at the University of Saskatchewan.
Richard's family's history of farming in Saskatchewan goes back generations. His great grandfather homesteaded south of Indian Head. Richard grew up on the family farm north-west of Indian Head, operated by his father Roger (B.S.A. 1949) and mother Mavis. Richard operated equipment on the farm during his teenage and university years (B.S.A 1979, M.Sc. 1981) helping his father who was Director of Saskatchewan Wheat Pool during that period.  Richard and his wife Joan became involved in the business side of the farm in 1980 after he had completed his Master's degree in Agricultural Economics and began to work with Saskatchewan Department of Agriculture. The farm was rented out in 1988, when his father retired and Richard moved to Berkeley to pursue his Ph.D. in 1987. Richard's daughter Kara received her B.S.A and Masters in Agricultural Economics. Richard's son Eric became a Journeyman Agricultural Machinery Technician. Eric currently operates the family farm and runs a custom herbicide application business. Richard helps out in during seeding and harvest and assists his son with some of the grain marketing and production management.

Professor Gray's interest in agricultural policy began at early age participating in the nightly discussion around the supper table which followed the 6:00 o'clock news.  After completing his Masters Degree, Richard worked for five years as a grain market analyst for Saskatchewan Agriculture and Food. Being convinced that he would like to continue to do research to inform agricultural policy, he decided to pursue a Ph.D.. After completing his Ph.D and UC Berkeley, Richard was hired as an Assistant Professor in Agricultural Economic at the University of Saskatchewan in 1990.

During his first few years at the university Richard and his many graduate students worked on a wide range of policy issues. Richard has a broad range of research interests many covering many aspects of agricultural policy. He has published in the areas of agricultural trade, agricultural marketing, and environmental economics. Over time his research has increasing focused on various aspects of agricultural research and innovation systems. Since 2003 has led the Canadian Agricultural Innovation Research Network and regularly provides advice to farm organisations and government regarding innovation policy. To date (2020) Richard has published 35 books chapter, 70 Journal articles and directly supervised more then 45 graduate students while particpating more numerous graduate commitees. In 2010 he was recognised as Fellow of the Canadian Agricultural Economics Society.