Upcoming Events
The Fruit Program holds workshops, tours, and are often invited speakers at conferences. These events are designed to give commercial growers and gardeners a chance to learn, ask questions, and participate. Look below for a list of this year's events. Events that are hosted by the Fruit Program are held at the field lab (scroll down for map). Click here for a more detailed map.
Haskap School Agenda to be announced 
For 2022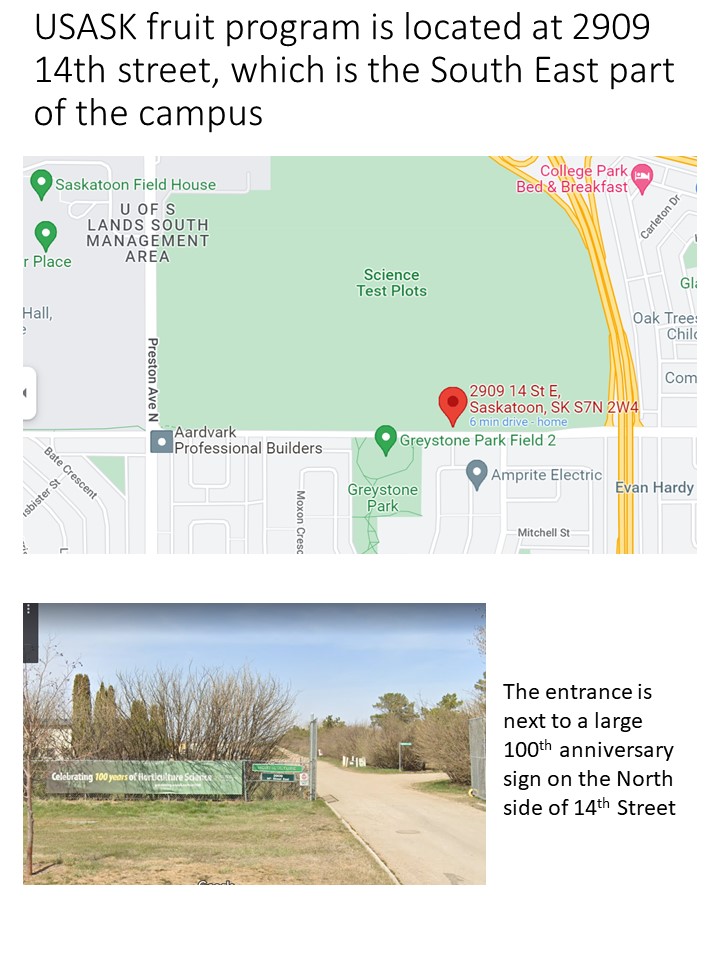 13 Aug 2022: August Fruit Day. 
This event occurs at the Horticulture Research farm at 2909 14th street. The focus will be on cherries, strawberries and raspberries.  With sour cherries you can see our new and older varieties plus we have a project to evaluate black knot on chokecherries.  We have ADOPT projects where strawberries and raspberries are grown in traditional ways plus with low or high tunnels. These last two projects are also testing newer varieties that have not been tried much in Saskatchewan.  This event is being done in cooperation with the Canadian Nursery and Landscape Association, Saskatchewan Fruit Growers Association, Canadian Cherry Producers and Saskatchewan Agriculture.  
The USASK part of this tour runs from 9:30 to 11:30.  There is no charge for this event as the event is being funded by two ADOPT grants from Saskatchewan Agriculture. 
We need to have an idea of how many people will be attending in order to set up properly, so please email Justin.Schaeffer@usask.ca  to let us know you are coming. Use "August Fruit Day" in the subject line of your email.
The Sask fruit association will be including our fruit day in their annual field day learn more here
This event will be followed by farm tours arranged by the Saskatchewan Fruit Growers Association, for which there will be a fee. Details on the SFGA tour will be posted when we get more information. 
Members of the Canadian Nursery and Landscape Association may be having their own meeting after the USASK tour.