OSIRIS Level 2 Data Products
The L2 data data products are regularly processed at the University of Saskatchewan for OSIRIS stratospheric limb scan measurements. Data from November, 2001, to the current date is available for download as an OSIRIS Level 2 Product. The data products are governed by ESA data distribution guidelines. We request that users contact the algorithm lead developers, 
Dr. Doug Degenstein
and/or
Dr. Adam Bourassa
, if they intend to publish or make extensive use of these products.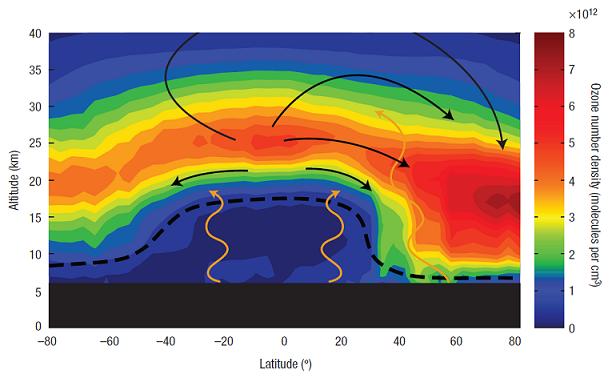 The OSIRIS spectra of limb scattered sunlight are used to retrieve the ozone number density vertical profiles over the altitude range from 10 to 60 km at a vertical resolution of approximately 1.5 km using the SaskMART Multiplicative Algebraic Reconstruction Technique, which is a one dimensional modification of a two-dimensional tomographic retrieval algorithm. This technique allows for the consistent merging of the absorption information from radiance measurements at wavelengths in the Chappuis and the Hartley-Huggins bands at each iteration of the inversion. A set of weighting factors is used to determine the importance of each line of sight and each element of the measurement vector for the retrieved state at each altitude.
OSIRIS ozone profile measurements show agreement with coincident SAGE II occultation measurements to within 2% from 18 to 53 km altitude over a large range of geolocations and solar zenith angles.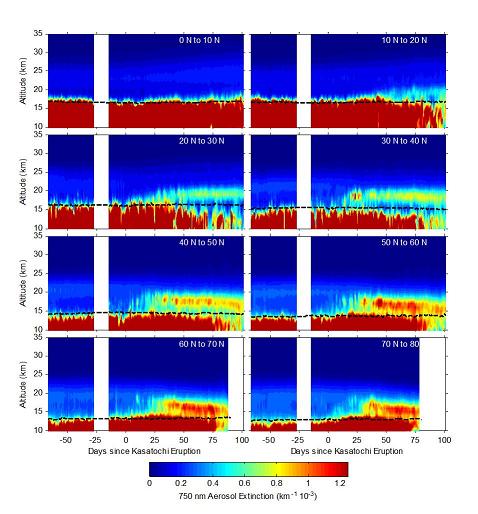 OSIRIS limb scattered sunlight spectra are used to retrieve vertical profiles of stratospheric aerosol extinction at 750 nm. All the spectra obtained with a single vertical scan of the spectrograph line of sight are used together to retrieve an extinction profile with approximately 1.5 km vertical resolution.  A wavelength ratio of 750 nm to 470 nm is used to characterize the effect of the Mie scattering signal.  Hydrated sulphuric acid particle microphysics, including a size distribution for typical background aerosol, are assumed to calculate the scattering cross section and phase functions required to retrieve the aerosol extinction. 
This retrieval is regularly processed at the University of Saskatchewan for all OSIRIS stratospheric limb scan measurements. Data from November, 2001, to the current date is available for download as an OSIRIS Level 2 Product in HDF-EOS5 format. OSIRIS remains fully operational and processing of this algorithm will be maintained into the foreseeable future.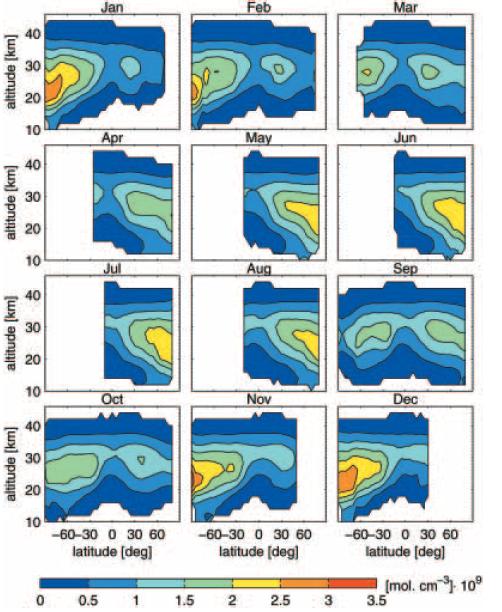 A new retrieval algorithm for OSIRIS (Optical Spectrograph and Infrared Imager System) nitrogen dioxide (NO2) profiles has been validated. The algorithm relies on spectral fitting to obtain slant column densities of NO2, followed by inversion using an algebraic reconstruction technique and the SaskTran spherical radiative transfer model (RTM) to obtain vertical profiles of local number density. The validation covers different latitudes (tropical to polar), years (2002–2012), all seasons (winter, spring, summer, and autumn), different concentrations of nitrogen dioxide (from denoxified polar vortex to polar summer), a range of solar zenith angles (68.6–90.5°), and altitudes between 10.5 and 39 km, thereby covering the full retrieval range of a typical OSIRIS NO2 profile. The use of a larger spectral fitting window than used in previous retrievals reduces retrieval uncertainties and the scatter in the retrieved profiles due to noisy radiances. Improvements are also demonstrated through the validation in terms of bias reduction at 15–17 km relative to the OSIRIS operational v3.0 algorithm. The diurnal variation of NO2 along the line of sight is included in a fully spherical multiple scattering RTM for the first time. Using this forward model with built-in photochemistry, the scatter of the differences relative to the correlative balloon NO2 profile data is reduced.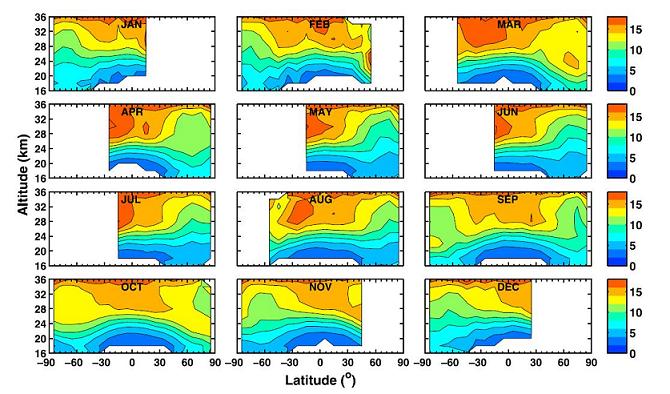 A 7+ year (2001–2008) data set of stratospheric BrO profiles measured by the Optical Spectrograph and Infra‐Red Imager System (OSIRIS) instrument, a UV‐visible spectrometer measuring limb‐scattered sunlight from the Odin satellite, is presented. Zonal mean radiance spectra are computed for each day and inverted to yield effective daily zonal mean BrO profiles from 16 to 36 km. A detailed description of the retrieval methodology and error analysis is presented. Single‐profile precision and effective resolution are found to be about 30% and 3–5 km, respectively, throughout much of the retrieval range. Individual profile and monthly mean comparisons with ground‐based, balloon, and satellite instruments are found to agree to about 30%. A BrO climatology is presented, and its morphology and correlation with NO2 is consistent with our current understanding of bromine chemistry. Monthly mean Bry maps are derived. Two methods of calculating total Bry in the stratosphere are used and suggest (21.0 ± 5.0) pptv with a contribution from very short lived substances of (5.0 ± 5.0) pptv, consistent with other recent estimates.
The OSIRIS level 2 data are available at our ftp server and require the following username and password:
u: osirislevel2user
p: hugin
ESA asks that you use the data free of charge and obligation once you have completed a registration form outlining your area of research, etc. ESA keeps track of the number of registered users and uses this information to justify continued funding of the Odin mission. ESA funds the Odin satellite as a 3rd party mission and they ask that all data users be registered with them. Unfortunately the process uses a standard form for all 3rd party missions which by itself is harmless, except they ask questions that unsettle many people. As an OSIRIS data user you are not required to provide any yearly reports of any kind to ESA even though the application forms asks you to agree to this after your application is submitted.
If you are having trouble locating the data you are interested in, contact Chris Roth.
OSIRIS Level 1 Services
The OSIRIS L1 data product is not available for distribution.  However, if you would like more information on   the OSIRIS Level 1 data, please contact
Chris Roth.