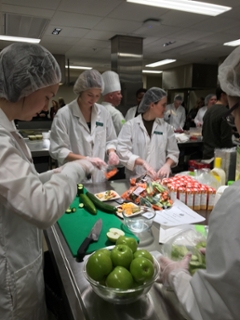 The College of Pharmacy and Nutrition's new  Food and Nutrition Lab opened officially March 3, 2017 in the Health Sciences building: 2B64.
This 3000 sq foot space contains a food preparation lab as well as separate dry and cold storage, student change rooms and classroom space. The food preparation lab consists of 12 work benches each housing a 6 burner electric commercial oven, sink and ample stainless steel work space.
Next door to our  Food and NutritionLab is the Food Research Lab where Nutriton professors are conducting food and nutrition related research with partners such as Saskatchewan Pulse Growers.
The Food and Nutrition Lab supports the teaching of undergraduate nutrition courses by providing practical hands on experience in course labs as well as opportunities outside of course requirements which deliver enriching experiences that benefit not only our nutrition students but the university community as well as Saskatoon.