To order any of the following RESOLVE publications contact your:
Not a New Problem
Violence in the Lives of Disabled Women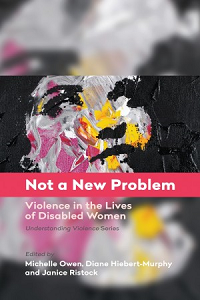 Edited by Michelle Owen, Diane Hiebert-Murphy and Janice Ristock.
Violence in the lives of women with disabilities is not a new problem, but it is a problem about which little has been written. This gap in our knowledge needs to be addressed, as women with disabilities are valuable members of our society whose experiences need to be made known. Without such knowledge, political action for social justice and for the prevention of violence is impossible. Contributors to Not a New Problem examine the experiences of Canadian women with disabilities, the need for improved access to services and the ways this violence is exacerbated by and intersects with gender, sexuality, Indigeneity, race, ethnicity and class.
The Healing Journey
Intimate Partner Abuse and Its Implications in the Labour Market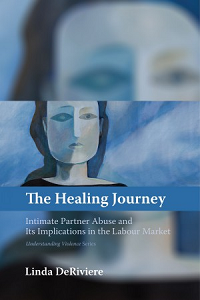 By Linda DeRiviere.
The book offers a startling analysis of intimate partner abuse and its negative effects on women's earnings, education and vocational training as well as in the labour market itself. Victims of abuse often suffer from chronic physical and mental health issues, which impede their participation in the labour market. Based on findings from a seven-wave study coordinated by RESOLVE, a family violence research centre housed in universities across the prairie provinces, the goal of this book is to advance a social scientific understanding of women's employment status and barriers to participation, occupations, household income sources and vocational training outcomes over the course of a woman's journey to heal from intimate partner abuse.
What's Law Got To Do With It?
The Law, Specialized Courts and Domestic Violence in Canada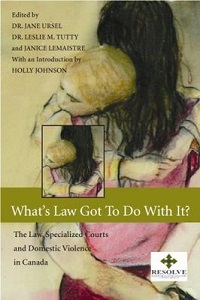 By Jane Ursel, Leslie M Tutty, and Janice leMaistre. 
In the past two decades, public awareness of domestic violence has increased dramatically. New institutions have been developed, such as transition homes for victims and treatment programs for perpetrators. At the same time, established institutions have been called upon to alter their practices and improve their response to domestic violence. 
What's Law Got To Do With It?
 examines changes in the Canadian justice system from the introduction of protection order legislation, to family law, to changes in criminal court procedures. Do protection orders offer victims an alternative for safety without having to involve police or the courts? Do family law courts give due consideration to safety in custody matters where violence has occurred? From the Yukon to downtown Toronto, specialized domestic violence courts are exploring new strategies to aid victims and hold perpetrators accountable. Do these strategies work? In 
What's Law Got To Do With It? 
we learn from the perspective of prosecutors, victims, and researchers of the efficacy of these changes in the justice system. The authors present recent, original research on the impact of specialized courts, the utilization of protection orders, and questions about custody in family violence cases.
Intimate Partner Violence
Reflections on Experience, Theory, and Policy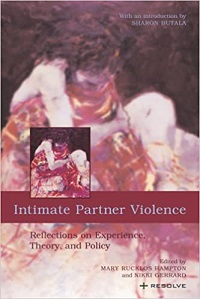 Edited by Mary Rucklos Hampton and Nikki Gerrard.
This collection of nine essays by outstanding academics, scholars, and practitioners in the field of intimate partner abuse is available for the general public, as well as for front-line workers who work with battered women, for government and non-governmental organization policymakers and lobbyists, for healthcare workers and mental health professionals, for family practitioners and internists. It is an excellent resource for psychologists, psychiatrists, and pastoral counsellors. Subjects covered include, among others: the formation and application of policy; the impact of policy on victims of violence and anti-violence workers; developing good policies about intimate partner violence; myths about women abused by intimate partners; the nature of the abuse throughout the relationship; the impact of abuse; the genesis of the abuse; social exclusion and bondedness to cultural community; understanding domestic violence; defining domestic violence; risk and the abused woman; and harm reduction and the abused woman's safety.
Within Our Reach
Preventing Abuse across the Lifespan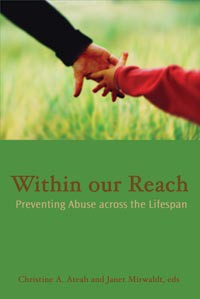 Edited by Christine A. Ateah and Janet Mirwaldt.
This volume is the fifth in the Healing and Hurting series co-published with RESOLVE (Research and Education for Solutions to Violence and Abuse). Within Our Reach focuses on lifespan issues associated with violence and abuse and discusses programs, practices and policies to address these issues. Each chapter, co-authored by an academic and a community practitioner, addresses specific issues of violence across the lifespan, from early childhood until late adulthood. These discussions highlight the effects of violence associated with an age group, including the physical punishment of children, sibling violence and bullying and other abusive behaviours occurring in childhood, dating violence, intimate violence experienced by immigrant women and abuse of the elderly. Although the issues of violence and abuse are ongoing concerns, this volume focuses on the many important efforts directed toward prevention that allow for optimism.
Being Heard
The Experiences of Young Women in Prostitution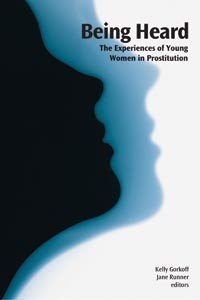 Edited by Kelly Gorkoff and Jane Runner.
Being Heard examines, from their own perspectives and experiences, the lives of young women sexually exploited through prostitution. Putting their voices in the centre of its analysis, the book tries to help us more fully understand the experiences of girls exploited through prostitution, the complex issues of sex trade work and the ways to best respond to the issues. Beginning with a discussion of what little we know about youth prostitution, subsequent chapters address young women's experiences with community and government programs, issues of self-identity, health and safety concerns, experiences of violence, factors that push young women into and may draw them out of sex trade work, and the effectiveness of Canadian legislation in coming to the aid of young prostitutes. The book is based on a four-year research project undertaken with Prairie women involved in sex trade work as youth and those who provide programming for them.
Reclaiming Self
Issues and Resources for Women Abused by Intimate Partners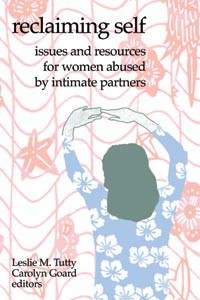 Edited by Carolyn Goard and Leslie M. Tutty.
Abuse of women by intimate partners is a significant problem in Canadian society. The critical issues facing abused women include the resources, such as shelters, and support groups available to assist them in being safe. This book considers the many aspects of supporting and providing safety for women who experience abuse. The authors focus on the impact of government policies, such as the criminal justice response and child protection services, on a woman's ability to safely leave an abusive relationship. The experiences of women who have used these safety resources are shared in this book. A further chapter discusses the issues raised by the experiences of women abused by lesbian partners. Future challenges faced by abused women and the services and policies designed to protect them, concludes the book. Each chapter presents the results of recent Canadian research and documents the voices of women who share their experiences of having been abused by an intimate partner.
Pieces of a Puzzle
Perspectives on Child Sexual Abuse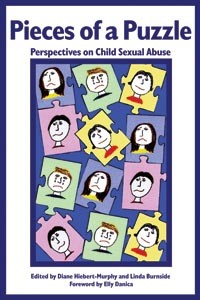 Edited by Linda Burnside and Diane Hiebert-Murphy.
This collection presents various "pieces" towards a comprehensive understanding of child sexual abuse and is intended for practitioners, researchers and students interested in contemporary perspectives on this issue. The volume offers a description of current Canadian research and intervention efforts on topics including treatment for child victims, understanding mothers of children who have been sexually abused, grooming patterns of offenders, a family systems approach to treatment, criminal prosecution in child sexual abuse cases and the use of community notification programs. The value of multiple perspectives and the need to work collaboratively to address the challenges of child sexual abuse are strongly emphasized. Second in the Hurting and Healing Series on intimate violence from RESOLVE and Fernwood.
No Place for Violence
Canadian Aboriginal Alternatives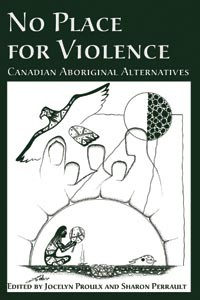 Edited by Sharon Perrault and Jocelyn Proulx.
Family violence has become an issue of significant concern within the Aboriginal community. One of the unique aspects of family violence within this community is its link to the history of colonization. This volume presents a number of studies on the effects of colonization, the need for programming specific to and by Aboriginal people and the efforts made by the Aboriginal community to meet that need. The success and respect that these projects have elicited from the community will build confidence and pave the way for their development and the pursuit of alternative approaches to family violence prevention in the Aboriginal community. First in the Hurting and Healing series on intimate violence from RESOLVE and Fernwood.