Every Child Matters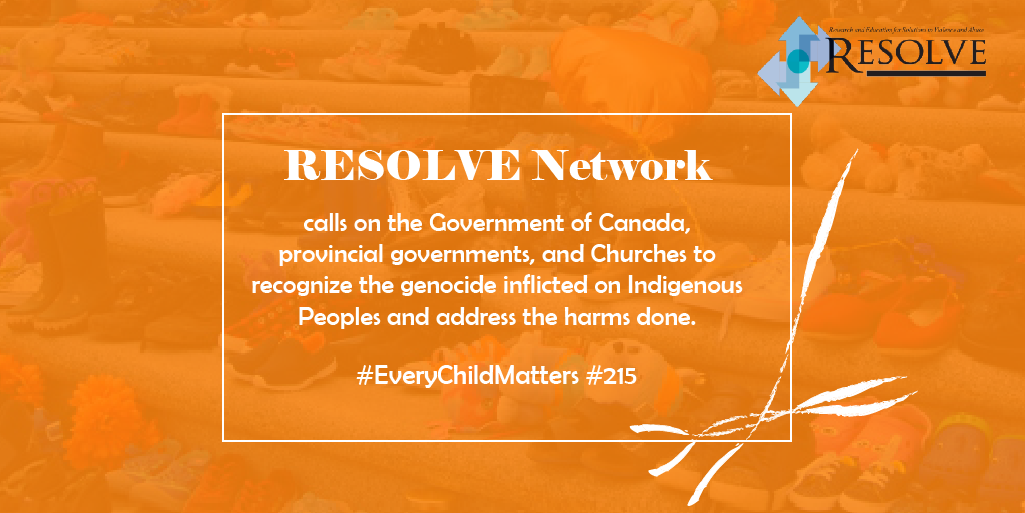 The recent discovery of the remains of 215 Indigenous children in an undocumented mass gravesite at the Kamloops Indian Residential School is a devastating and painful reminder of the colonial policies that continue to impact the lives of Indigenous Peoples. Our thoughts are with these children, the Tk'emlúps te Secwépemc First Nation, residential school survivors, and all who mourn these children and others yet to be found. We call on the Government of Canada, our provincial governments, and Churches to recognize the genocide inflicted on Indigenous Peoples and address the harms done. We honour the lives of those children. Our thoughts and hearts are with their families and loved ones.
During this difficult time, the following community-based supports are available:
Stories
The Interpersonal Violence Disclosure Protocol Act (Clare's Law)
by Jo-Anne Dusel & Crystal Giesbrecht, Provincial Association of Transition Houses and Services of Saskatchewan (PATHS)
The Interpersonal Violence Disclosure Protocol Act, better known as Clare's Law, is provincial legislation that came into force in Saskatchewan on June 29, 2020. Saskatchewan is the first province in Canada to enact Clare's Law, though other jurisdictions such as Alberta and Newfoundland are also in the process of developing similar legislation. The Act itself is accompanied by the Interpersonal Violence Disclosure (Clare's Law) Regulations and the Interpersonal Violence Disclosure Protocol. The legislation is designed to facilitate the disclosure of risk information in order to prevent future victimization by legally authorizing police to disclose information to current or potential intimate partners for the purpose of informing and protecting individuals who are at risk.
The Protocol is based on the UK model but has been adapted to fit the needs in Saskatchewan. The Provincial Association of Transition Houses and Services of Saskatchewan (PATHS) worked on this protocol alongside the Saskatchewan Association of Chiefs of Police, the Ministry of Justice, and the Ministry of Corrections and Policing.
Clare's Law was first established in the United Kingdom in 2014. It is named after Clare Wood, a woman who was murdered by a former partner. Police were aware that he had a record of violence, but that information was never disclosed to Clare, despite her seeking help from police for stalking and harassment from the man who would later brutally murder her. After her death, Clare's father advocated for this legislation in the UK, firmly believing that if Clare had known about her partner's history of violence towards women, she would have made different choices and still be alive today.
Clare's Law is proactive, not reactive. It gives a potential victim an informed choice—before violence happens. This legislation is not designed for individuals in already in established relationships where abuse is occurring, as they already know they are at risk. Rather, it serves to interrupt the impact of serial domestic abusers by informing subsequent and/or potential partners of the risk posed by the individual they are becoming involved with. Domestic violence death reviews consistently show that a history of domestic violence and other related criminal activity is a major risk factor for future violence, therefore Clare's Law is an evidence-based approach to reducing incidents of intimate partner violence and risk of intimate homicide.
There are two pillars of Clare's Law, the "right to know", and, the "right to ask". The "right to know" comes into play when police become aware that an individual is at risk and they initiate the disclosure. One example of how this may take place is a situation where neighbours hear a dispute and call the police. If there is no evidence that a crime has taken place when the police arrive and the individuals involved choose not to make a statement, there may not be much the police can do. However, if police discover that one individual has a history of violence against a previous intimate partner or a history of sexualized violence, Clare's Law can enable them to share information with the current partner and potentially prevent them from experiencing future violence and abuse.
The "right to ask" allows for someone who feels they may be at risk to make a Clare's Law application at a municipal police service. The officer or civilian police service member will take some information around the context of the request to ensure that it fits with the intent of Clare's Law. For example, requests that are seeking information about an ex-partner or in an attempt to gain information for reasons other than safety may be denied. An initial check will be conducted to ensure that the individual making the application is not in immediate danger. If it is determined that they are in immediate danger, safeguarding actions will be taken by police. If the initial discussion with the applicant reveals that a chargeable offense has taken place the police must pursue it, but this does not mean that the request for disclosure of past police involvement or convictions cannot move forward.
Professionals who work in specified occupations, such as shelter workers, domestic and family violence counsellors, police, lawyers, social workers, psychologists, and nurses may assist with or make an application on behalf of an applicant, with the consent of the applicant. Parents or guardians may also make an application on behalf of someone under 18 or someone who does not have capacity to apply on their own. It is important to note that the Protocol also allows for individuals with a close personal knowledge of someone with a history of using violence in relationships to make an application under Clare's Law. This means that former partners of abusers can initiate the process so that a new partner may receive disclosure information, warning them that they may be at risk.
The Protocol is a four-part process. First, there is the initiation of the process, either by an individual applicant, or by a police service. Next, assessment of risk takes place through police record checks and gathering information from the applicant. Third, the multi-sector review committee reviews the available information and makes a recommendation, before the fourth step where a disclosure is made to the person at risk.
The multi-sector review committee is made up of representatives from community (PATHS), Victims Services, and law enforcement and has access to anonymized information, including: relevant criminal convictions; relevant criminal charges; diversions (charges dealt with by an alternative process, such as domestic violence court); police warnings; and other concerning behaviour known to police. They may receive the text of complainants' statements in police records, if available, which can help to flag risk factors that are not criminal in nature such as coercive controlling behavior and mental health or substance use issues. Unfortunately, the amount of information available may be negatively impacted by the RCMP's decision not to participate in Clare's Law. The multi-sector committee reviews the information provided and collectively determines the level of risk, if a disclosure is recommended, and who should receive the disclosure. The final decision to disclose or not rests with the police service that received the application, as the information legally belongs to the police.
Even cases where no risk information is found the individual making the application will be told that this is not a guarantee that they are not at risk and they will be provided with referrals for risk assessment and safety planning. If there is an imminent risk of harm, the process can jump directly from initiation or assessment of risk to disclosure. Protocols are in place to ensure the safety of the applicants including ensuring that a safe contact number is obtained and that the disclosure meeting is held at a location that is deemed safe by the applicant.
The disclosure information will include the multi-sector review committee's determination of level of risk – high, medium or low. While no personal information or specifics from the police file will be disclosed, relevant criminal convictions and pending charges are public record and will likely be shared. Additional relevant information may include if the individual has access to weapons, as well as a listing of risk factors that may not be criminal but demonstrate increased risk and information about support services. Efforts will be made to have violence against women advocates or victim services present to provide safety planning and risk assessment after the disclosure. At a minimum, referral information will be provided.
Individuals who receive a disclosure under Clare's Law must sign a confidentiality agreement in which they agree that they commit to only using the information provided within their circle of care to keep themselves and others, including children, safe; to ask what support is available and who to contact if they believe they or others are at risk; and to ask for advice on how to keep themselves and others safe. The disclosure is verbal– nothing concerning the disclosure is given in print.
As mentioned, the RCMP has, so far, declined to participate in Clare's Law despite provinces such as Alberta and Newfoundland moving forward with similar legislation. A Saskatchewan resident, Anika Henderson, who lost a family member to intimate partner homicide, has initiated a petition, Petition e-2767, to the federal Minister of Justice, which calls upon the federal government to amend the current federal Privacy Act to allow for an exemption to the Act, for the purposes of sharing information in the interests of protecting individuals from risk related to intimate partner violence. The petition is open until November 5th. As a response to the COVID-19 pandemic, the Protocol was amended to allow municipal police to take applications over the phone as opposed to requiring in-person requests. This has the advantage of also allowing individuals who live in rural and remote areas served by the RCMP to access Clare's Law by contacting municipal police by phone.
Only a small number of applications have been submitted and reviewed to date, but in each of these cases the multi-sector review committee made a recommendation to disclose. As the cases are being reviewed, it has become even more clear that Clare's Law has the ability to proactively protect individuals from risk of harm or death from serial perpetrators of violence.
On International Women's Day 2020, Karen went to British Columbia representing RESOLVE Saskatchewan to lead a conversation titled: "Shhh… talk about it: Elephants in the room and gender equality" at Houston's International Women's Day Dinner Event. She focused on where we are with gender equality/equity in Canada, recognizing that gender inequality  is the foundation that enables gender-based violence. 
Karen drew attention to the silence surrounding violence towards women and girls: the Elephant in the room. She mentions three "invisibility cloaks" wrapped around the Elephant: Social Norms; Not knowing what violence is; and Harm Narrative. The first two "cloaks" were familiar to me, yet the "Harm Narrative" caught my attention. According to Karen, it is a reminder to look at the violence issue more broadly. The Harm Narrative places the woman as the problem, deflecting attention away from who is harming her. One of the questions Karen is exploring is how we can support individuals and families who are experiencing abuse, who want to disengage from the harm while keeping the relationship intact. Karen's hope is that we can find ways to support women who are experiencing IPV, whether or not they remain in the relationship and support her and her family in finding different ways to end the abuse. By shifting the focus and "adopting safety rather than leaving as the desired outcome, we are taking more responsibility for keeping women safe" (Yoshioka & Choi, 2005) while respecting her needs and autonomy.
Karen also approached topics on what we can do and how to help someone, concluding her intervention with a call to action for everyone in the community to help prevent violence.