2023 National Gathering
Cape Breton, NS, October 11-14, 2023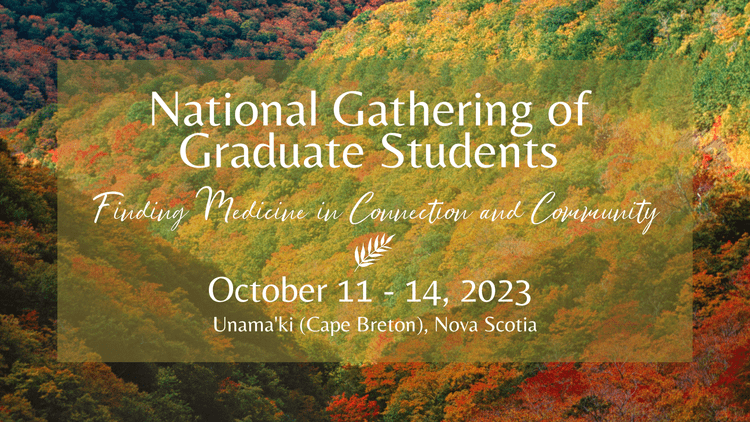 The 2023 Gathering will be hosted by the Wabanaki-Labrador Indigenous Health Research Network (Atlantic NEIHR).
The call for abstracts is now closed. 
Please visit the NGGS 2023 website for more information on this year's Gathering, at: https://www.wabanaki-labradornetwork.ca/gatherings
2022 National Gathering
Registration and Schedule
The NEIHR National Coordinating Centre in partnership with the host NEIHR, the nātowihowin and mamawiikikayaahk Research, Training and Mentorship Networks (Saskatchewan NEIHR) invited Indigenous students to join us for research presentations, workshops, and more at Dakota Dunes Resort on lands of Whitecap Dakota First Nation, approximately 20 minutes south of Saskatoon.
The NCC also partnered with a local gathering of Two-Spirit and IndigiQueer community members from Saskatchewan. The goal of this gathering is to create connections and opportunities for collaboration, and to further Two-Spirit and IndigiQueer research and representation within research spaces. 
We had a call for student abstracts and those selected provided a 15-minute panel presentation during this event. Those selected also had airfare and accommodation covered. The deadline to submit was on April 12, 2022 and we had slightly over sixty submissions. 
Eligibility was open all Indigenous Students, including International Indigenous students residing in Canada in an Honours undergraduate program, Masters, PhD program or Postdoctoral Fellowship.
The National Gathering is a NEIHR and IMN student gathering, not an open conference. Students were able to register if they had received an acceptance letter indicating that their abstract has been accepted for presentation, or if they had been invited by a NEIHR to attend.  
2018-2021 Gatherings
NGGS 2021: Nurturing our Whole Selves | June 7 – 29, 2021
The National Gathering of Graduate Students (NGGS) is a national annual gathering that brings together Indigenous graduate students doing research on Indigenous health and well-being. The NGGS is meant to foster belonging and support for Indigenous graduate students, as well as a place for skill and capacity building and knowledge transfer. By learning with and from other graduate students, Indigenous faculty, and allied scholars from across the country, the NGGS is a culturally relevant and scientifically rigorous meeting. 

In response to the ongoing COVID-19 pandemic, we are moving forward with a virtual format for this year's NGGS, with events taking place throughout the month of June. Recognizing that this pandemic has been difficult for our students, the theme of NGGS 2021 is "Nurturing our Whole Selves" with a focus on events for self-care and relationships. Indigenous graduate and health professional students who are undertaking research in the area of health and/or wellbeing research are invited to register.
August 12-14, 2020
Online
Hosted by Ombaashi and the IMNPs 
After COVID threw a wrench in this year's plans for NGGS the Indigenous Mentorship Network Programs decided to change the format and attempt our first Online Gathering. It looked quite a bit different but was fun nonetheless, with more than 160 students from across Canada presenting and participating in workshops and other activities.
Thompson Rivers University
Kamloops, BC
July 9-13, 2018
hosted by Ombaashi
The gathering creates the opportunity to:
Present and discuss work with international Indigenous health and wellness leaders.
Meet Indigenous researchers in similar fields.
Meet Indigenous and allied graduate students.
Hear from leaders in Indigenous health and wellness research.
Attend professional development seminars with leading Indigenous health and wellness researchers.